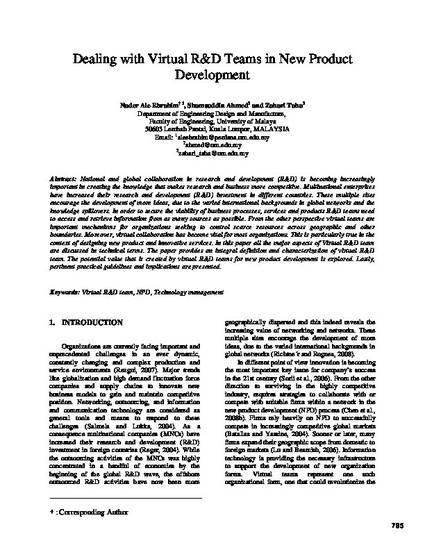 Other
Dealing with Virtual R&D Teams in New Product Development
(2008)
Abstract
National and global collaboration in research and development (R&D) is becoming increasingly important in creating the knowledge that makes research and business more competitive. Multinational enterprises have increased their research and development (R&D) investment in different countries. These multiple sites encourage the development of more ideas, due to the varied international backgrounds in global networks and the knowledge spillovers. In order to secure the viability of business processes, services and products R&D teams need to access and retrieve information from as many sources as possible. From the other perspective virtual teams are important mechanisms for organizations seeking to control scarce resources across geographic and other boundaries. Moreover, virtual collaboration has become vital for most organizations. This is particularly true in the context of designing new product and innovative services. In this paper all the major aspects of Virtual R&D team are discussed in technical terms. The paper provides an integral definition and characterization of virtual R&D team. The potential value that is created by virtual R&D teams for new product development is explored. Lastly, pertinent practical guidelines and implications are presented.
Keywords
Virtual R&D team,
NPD,
Technology management
Publication Date
December 4, 2008
Citation Information
ALE EBRAHIM, N., AHMED, S. & TAHA, Z. (2008). Dealing with Virtual R&D Teams in New Product Development. In: The 9th Asia Pacific Industrial Engineering & Management Systems Conference and the 11th Asia Pacific Regional Meeting of the International Foundation for Production Research, 3 - 5 December 2008 Nusa Dua, Bali - Indonesia. Printed in Bandung, INDONESIA, by Department of Industrial Engineering Institut Teknologi Bandung, 795-806.