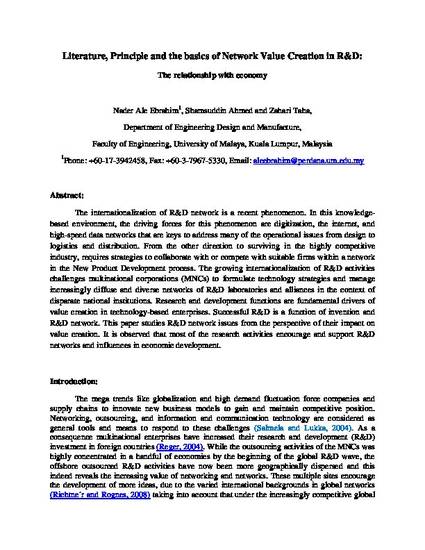 Other
Literature, Principle and the basics of Network Value Creation in R&D: The relationship with economy
(2008)
Abstract
The internationalization of R&D network is a recent phenomenon. In this knowledge based environment, the driving forces for this phenomenon are digitization, the internet, and high-speed data networks that are keys to address many of the operational issues from design to logistics and distribution. From the other direction to surviving in the highly competitive industry, requires strategies to collaborate with or compete with suitable firms within a network in the New Product Development process. The growing internationalization of R&D activities challenges multinational corporations (MNCs) to formulate technology strategies and manage increasingly diffuse and diverse networks of R&D laboratories and alliances in the context of disparate national institutions. Research and development functions are fundamental drivers of value creation in technology-based enterprises. Successful R&D is a function of invention and R&D network. This paper studies R&D network issues from the perspective of their impact on value creation. It is observed that most of the research activities encourage and support R&D networks and influences in economic development.
Publication Date
June 30, 2008
Citation Information
ALE EBRAHIM, N., AHMED, S. & TAHA, Z. (2008). Literature, Principle and the basics of Network Value Creation in R&D: The relationship with economy. In: Seventh conference of Industries and Mines R&D Centers- R&D and Network Value Creation, 29-30 June 2008 IRIB Int'l. Conference Center, Tehran, Iran.