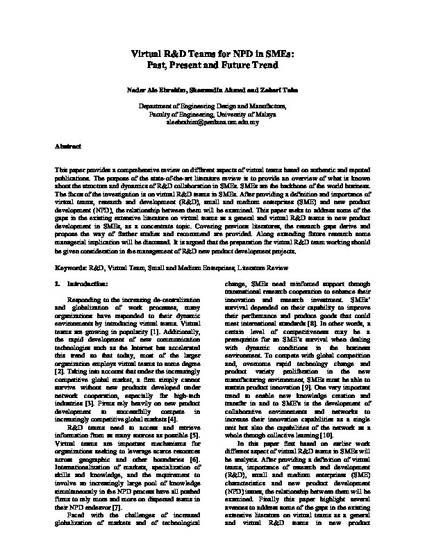 Other
Virtual R&D Teams for NPD in SMEs: Past, Present and Future Trend
(2008)
Abstract
This paper provides a comprehensive review on different aspects of virtual teams based on authentic and reputed publications. The purpose of the state-of-the-art literature review is to provide an overview of what is known about the structure and dynamics of R&D collaboration in SMEs. SMEs are the backbone of the world business. The focus of the investigation is on virtual R&D teams in SMEs. After providing a definition and importance of virtual teams, research and development (R&D), small and medium enterprises (SME) and new product development (NPD), the relationship between them will be examined. This paper seeks to address some of the gaps in the existing extensive literature on virtual teams as a general and virtual R&D teams in new product development in SMEs, as a concentrate topic. Covering previous literatures, the research gaps derive and propose the way of further studies and recommend are provided. Along extending future research some managerial implication will be discussed. It is argued that the preparation for virtual R&D team working should be given consideration in the management of R&D new product development projects.
Keywords
R&D,
Virtual Team,
Small and Medium Enterprises,
Literature Review
Publication Date
October 29, 2008
Citation Information
ALE EBRAHIM, N., AHMED, S. & TAHA, Z. (2008). Virtual R&D Teams for NPD in SMEs: Past, Present and Future Trend. In: APCMOTTE2008 (Asia pacific Conference on Management of Technology and Technology Entrepreneurship) 29-30, October 2008 Melaka ,Malaysia.