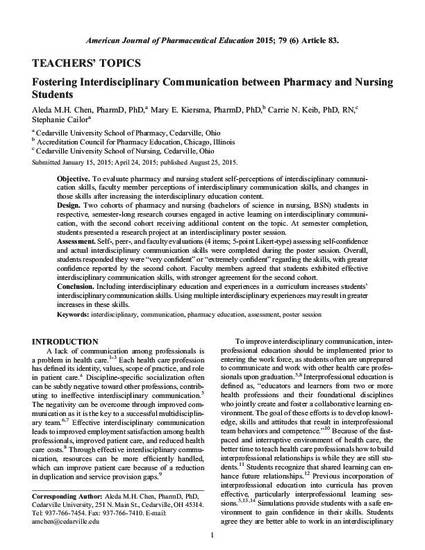 Article
Fostering Interdisciplinary Communication Between Pharmacy and Nursing Students
American Journal of Pharmaceutical Education
Publication Date
7-1-2015
DOI
http://10.5688/ajpe79683
Abstract
Objective. To evaluate pharmacy and nursing student self-perceptions of interdisciplinary communication skills, faculty member perceptions of interdisciplinary communication skills, and changes in those skills after increasing the interdisciplinary education content. Design. Two cohorts of pharmacy and nursing (bachelors of science in nursing, BSN) students in respective, semester-long research courses engaged in active learning on interdisciplinary communication, with the second cohort receiving additional content on the topic. At semester completion, students presented a research project at an interdisciplinary poster session. Assessment. Self-, peer-, and faculty evaluations (4 items; 5-point Likert-type) assessing self-confidence and actual interdisciplinary communication skills were completed during the poster session. Overall, students responded they were "very confident" or "extremely confident" regarding the skills, with greater confidence reported by the second cohort. Faculty members agreed that students exhibited effective interdisciplinary communication skills, with stronger agreement for the second cohort. Conclusion. Including interdisciplinary education and experiences in a curriculum increases students' interdisciplinary communication skills. Using multiple interdisciplinary experiences may result in greater increases in these skills.
Keywords
Nursing education,
interdisciplinary,
communication,
pharmacy education,
assessment,
poster session
Citation Information
Aleda M.H. Chen, Mary E. Kiersma, Carrie N. Keib and Stephanie M. Cailor. "Fostering Interdisciplinary Communication Between Pharmacy and Nursing Students"
American Journal of Pharmaceutical Education
Vol. 79 Iss. 6 (2015) p. 1 - 10
Available at: http://works.bepress.com/aledamhchen/215/