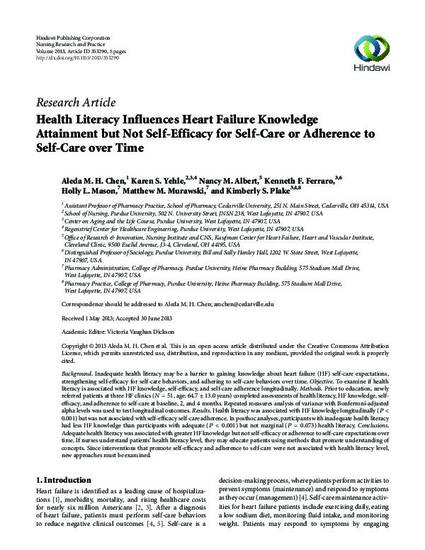 Article
Health Literacy Influences Heart Failure Knowledge Attainment but Not Self-Efficacy for Self-Care or Adherence to Self-Care over Time
Nursing Research and Practice
Publication Date
1-1-2013
DOI
http://dx.doi.org/10.1155/2013/353290
PubMed Central® ID
PMC3741959
Abstract
Background. Inadequate health literacy may be a barrier to gaining knowledge about heart failure (HF) self-care expectations, strengthening self-efficacy for self-care behaviors, and adhering to self-care behaviors over time. Objective. To examine if health literacy is associated with HF knowledge, self-efficacy, and self-care adherence longitudinally. Methods. Prior to education, newly referred patients at three HF clinics (, age: years) completed assessments of health literacy, HF knowledge, self-efficacy, and adherence to self-care at baseline, 2, and 4 months. Repeated measures analysis of variance with Bonferroni-adjusted alpha levels was used to test longitudinal outcomes. Results. Health literacy was associated with HF knowledge longitudinally () but was not associated with self-efficacy self-care adherence. In posthoc analyses, participants with inadequate health literacy had less HF knowledge than participants with adequate () but not marginal () health literacy. Conclusions. Adequate health literacy was associated with greater HF knowledge but not self-efficacy or adherence to self-care expectations over time. If nurses understand patients' health literacy level, they may educate patients using methods that promote understanding of concepts. Since interventions that promote self-efficacy and adherence to self-care were not associated with health literacy level, new approaches must be examined.
Keywords
Health education,
health literacy,
heart failure,
self-care,
adult,
affect,
cognition,
curriculum,
nursing education,
pharmacy education,
empathy,
factor analysis,
statistical,
female,
humans,
male,
nurse-patient relations,
professional-patient relations,
psychometrics,
questionnaires,
reproducibility of results,
nursing students,
pharmacy students,
young adult
Citation Information
Aleda M.H. Chen, Karen S. Yehle, Nancy M. Albert, Kenneth F. Ferraro, et al.. "Health Literacy Influences Heart Failure Knowledge Attainment but Not Self-Efficacy for Self-Care or Adherence to Self-Care over Time"
Nursing Research and Practice
Vol. 2013 (2013) p. 1 - 8 ISSN: 2090-1429
Available at: http://works.bepress.com/aledamhchen/110/