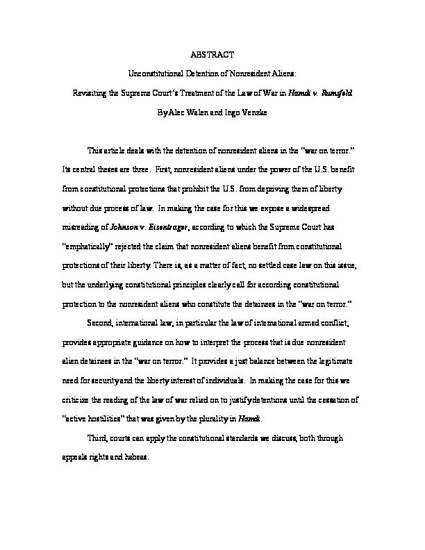 Unpublished Paper
Unconstitutional Detention of Nonresident Aliens: Revisiting the Supreme Court's Treatment of the Law of War in Hamdi v. Rumsfeld
ExpressO (2007)
Abstract
This article deals with the detention of nonresident aliens in the "war on terror." Its central theses are three. First, nonresident aliens under the power of the U.S. benefit from constitutional protections that prohibit the U.S. from depriving them of liberty without due process of law. In making the case for this we expose a widespread misreading of Johnson v. Eisentrager, according to which the Supreme Court has "emphatically" rejected the claim that nonresident aliens benefit from constitutional protections of their liberty. There is, as a matter of fact, no settled case law on this issue, but the underlying constitutional principles clearly call for according constitutional protection to the nonresident aliens who constitute the detainees in the "war on terror." Second, international law, in particular the law of international armed conflict, provides appropriate guidance on how to interpret the process that is due nonresident alien detainees in the "war on terror." It provides a just balance between the legitimate need for security and the liberty interest of individuals. In making the case for this we criticize the reading of the law of war relied on to justify detentions until the cessation of "active hostilities" that was given by the plurality in Hamdi. Third, courts can apply the constitutional standards we discuss, both through appeals rights and habeas.
Keywords
constitutional due process,
nonresident aliens,
law of war,
detention,
war on terror
Publication Date
April, 2007
Citation Information
Alec D Walen and Ingo Venzke. "Unconstitutional Detention of Nonresident Aliens: Revisiting the Supreme Court's Treatment of the Law of War in Hamdi v. Rumsfeld"
ExpressO
(2007)
Available at: http://works.bepress.com/alec_walen/1/