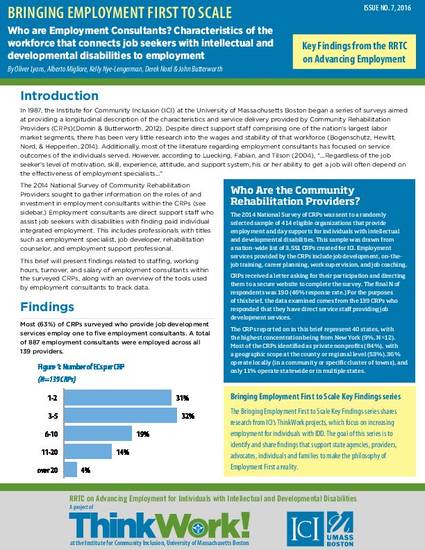 Article
Who are Employment Consultants? Characteristics of the workforce that connects job seekers with intellectual and developmental disabilities to employment (Bringing Employment First to Scale, Issue No. 7)
All Institute for Community Inclusion Publications
Document Type
Occasional Paper
Publication Date
1-1-2016
Abstract
In 1987, the Institute for Community Inclusion (ICI) at the University of Massachusetts Boston began a series of surveys aimed at providing a longitudinal description of the characteristics and service delivery provided by Community Rehabilitation Providers (CRPs)(Domin & Butterworth, 2012). Despite direct support staff comprising one of the nation's largest labor market segments, there has been very little research into the wages and stability of that workforce (Bogenschutz, Hewitt, Nord, & Hepperlen, 2014). Additionally, most of the literature regarding employment consultants has focused on service outcomes of the individuals served. However, according to Luecking, Fabian, and Tilson (2004), "…Regardless of the job seeker's level of motivation, skill, experience, attitude, and support system, his or her ability to get a job will often depend on the effectiveness of employment specialists…" The 2014 National Survey of Community Rehabilitation Providers sought to gather information on the roles of and investment in employment consultants within the CRPs (see sidebar.) Employment consultants are direct support staff who assist job seekers with disabilities with finding paid individual integrated employment. This includes professionals with titles such as employment specialist, job developer, rehabilitation counselor, and employment support professional. This brief will present findings related to staffing, working hours, turnover, and salary of employment consultants within the surveyed CRPs, along with an overview of the tools used by employment consultants to track data.
Community Engaged/Serving
No, this is not community-engaged.
Citation Information
Oliver Lyons, Alberto Migliore, Kelly Nye-Lengerman, Derek Nord, et al.. "Who are Employment Consultants? Characteristics of the workforce that connects job seekers with intellectual and developmental disabilities to employment (Bringing Employment First to Scale, Issue No. 7)" (2016)
Available at: http://works.bepress.com/alberto-migliore/5/