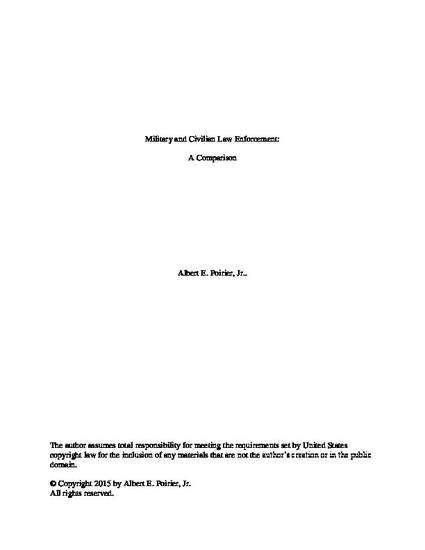 Unpublished Paper
Comparison Between Military and Civilian Criminal Justice Systems
(2015)
Abstract
When comparing military and civilian law enforcement we must first look to the sources of the law.  While the foundation for both lies in the U. S. Constitution, both the military and civil law have their own codes. 
For the military, Congress enacted the Uniform Code of Military Justice (UCMJ) in 1950 to rectify what many had considered a broken military justice system responsible for "gross and essentially unreviewable miscarriages of justice." (Shanor & Hogue, 2003, p. 227)   The UCMJ, and the Manual for Courts Martial (MCM) which implements the code, sought to cure such ills as officers untrained in the law being assigned to general courts martial, which meant that "adherence to the law fell to clueless amateurs, and the use of indeterminate sentencing, also known as "different spanks for different ranks!" (Shanor & Hogue, 2003, pp. 227-8)  As General Moorman, the Judge Advocate General of the U. S. Air Force, pointed out in 2000, the UCMJ has survived over 50 years with none of the dissatisfaction with the military legal system that followed World War II. (Moorman, 2000) The UCMJ is applicable to all members of the military regardless of branch of service.
For civilians, on a federal level the United States Code is the source of criminal law.  In addition to the United States Code, each state has its own set of laws.  For example, in Florida we have the Florida Statutes, while in West Virginia they have the West Virginia Code.  By whatever name, they are the operable laws in that jurisdiction. 
One other factor that separates civilian criminal justice and military criminal justice is the fact that the military criminal justice system must be worldwide in its jurisdiction of alleged misconduct by military members.  The military criminal justice system truly "follows the flag."
Publication Date
Winter January 5, 2015
Citation Information
Albert E Poirier. "Comparison Between Military and Civilian Criminal Justice Systems" (2015)
Available at: http://works.bepress.com/albert_poirier/9/