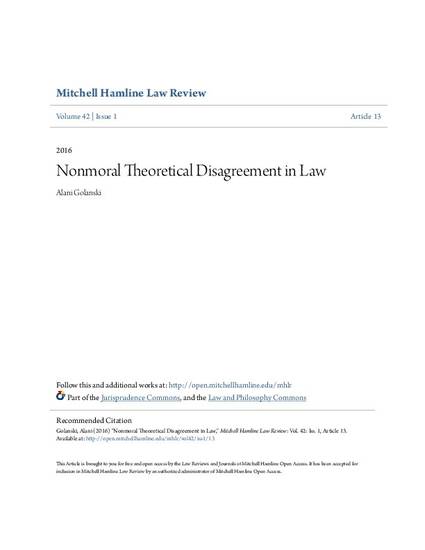 Article
Nonmoral Theoretical Disagreement in Law.pdf
Mitchell Hamline Law Review (2016)
Abstract
In legal philosophy, the prevailing legal "positivist" approach denies, either wholly or mostly, that law's existence and validity rest on moral criteria. The perception of widespread "theoretical disagreement" in law, however, has posed a powerful challenge to legal positivism. This is because moral judgments are often controversial, and so the existence of widespread theoretical disagreement, if this occurs, has traditionally been seen as the indicium of law's moral grounding. I argue, however, that constraints existing in law by virtue of its institutional nature render
nonmoral
theoretical disagreement widely possible, and frequently actual. Theoretical disputes in law are, in the first instance, best understood as nonmoral controversies over the standards for determining whether the existing legal materials are sufficiently "directed at" the present circumstances, and whether they provide a solution to the new matter with sufficient exactness.  If so, theoretical disagreement in law should not count against legal positivism.
Keywords
legal positivism,
theoretical disagreement,
morality,
philosophy of institutions,
social ontology,
Searle,
Dworkin,
Hart,
Raz
Publication Date
Winter March, 2016
Citation Information
Alani Golanski. "Nonmoral Theoretical Disagreement in Law.pdf"
Mitchell Hamline Law Review
Vol. 42 Iss. 1 (2016) p. 225 - 272 ISSN: 0270-272x
Available at: http://works.bepress.com/alani_golanski/13/