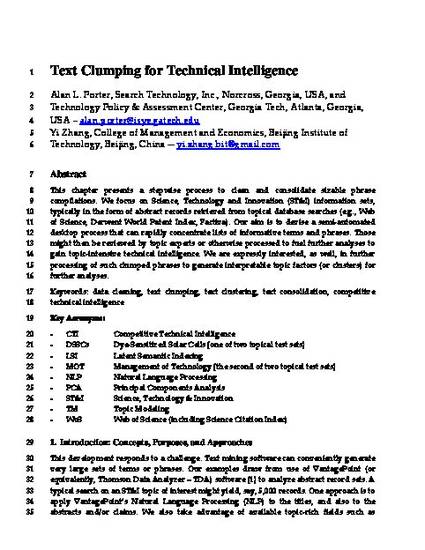 Contribution to Book
Text Clumping for Technical Intelligence
Theory and Applications for Advanced Text Mining (2012)
Abstract
This chapter presents a stepwise process to clean and consolidate sizable phrase compilations. We focus on Science, Technology and Innovation (ST&I) information sets, typically in the form of abstract records retrieved from topical database searches (e.g., Web of Science, Derwent World Patent Index, Factiva). Our aim is to devise a semi-automated desktop process that can rapidly concentrate lists of informative terms and phrases. Those might then be reviewed by topic experts or otherwise processed to fuel further analyses to gain topic-intensive technical intelligence. We are expressly interested, as well, in further processing of such clumped phrases to generate interpretable topic factors (or clusters) for further analyses.
Keywords
data cleaning,
text clumping,
text clustering,
text consolidation,
competitive technical intelligence
Citation Information
alan l porter and yi zhang. "Text Clumping for Technical Intelligence"
Theory and Applications for Advanced Text Mining
(2012)
Available at: http://works.bepress.com/alan_porter/18/