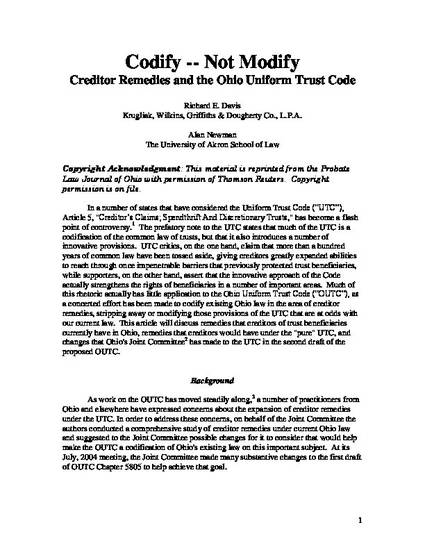 Article
Codify -- Not Modify: Creditor Remedies and the Ohio Uniform Trust Code
Probate Law Journal of Ohio (2004)
Abstract
In a number of states that have considered the Uniform Trust Code ("UTC"), Article 5, "Creditor's Claims; Spendthrift And Discretionary Trusts," has become a flash point of controversy. The prefatory note to the UTC states that much of the UTC is a codification of the common law of trusts, but that it also introduces a number of innovative provisions. UTC critics, on the one hand, claim that more than a hundred years of common law have been tossed aside, giving creditors greatly expanded abilities to reach through once impenetrable barriers that previously protected trust beneficiaries, while supporters, on the other hand, assert that the innovative approach of the Code actually strengthens the rights of beneficiaries in a number of important areas. Much of this rhetoric actually has little application to the Ohio Uniform Trust Code ("OUTC"), as a concerted effort has been made to codify existing Ohio law in the area of creditor remedies, stripping away or modifying those provisions of the UTC that are at odds with our current law. This article will discuss remedies that creditors of trust beneficiaries currently have in Ohio, remedies that creditors would have under the "pure" UTC, and changes that Ohio's Joint Committee has made to the UTC in the second draft of the proposed OUTC.
Keywords
creditor remedies,
Ohio Uniform Trust Code,
spendthrifts,
discretionary trusts,
trusts,
beneficiaries
Citation Information
Alan Newman and Richard E. Davis,
Codify -- Not Modify: Creditor Remedies and the Ohio Uniform Trust Code
, 15
Probate Law Journal of Ohio
24 (2004).