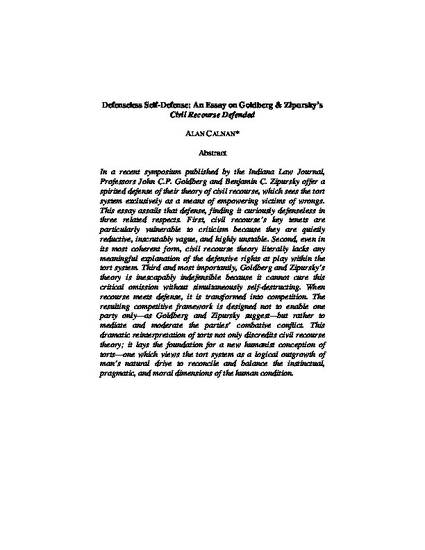 Unpublished Paper
DEFENSELESS SELF-DEFENSE: AN ESSAY ON GOLDBERG AND ZIPURSKY'S CIVIL RECOURSE DEFENDED
ExpressO (2013)
Abstract
In a recent symposium published by the Indiana Law Journal, Professors John C.P. Goldberg and Benjamin C. Zipursky offer a spirited defense of their theory of civil recourse, which sees the tort system exclusively as a means of empowering victims of wrongs. This essay assails that defense, finding it curiously defenseless in three related respects. First, civil recourse's key tenets are particularly vulnerable to criticism because they are quietly reductive, inscrutably vague, and highly unstable. Second, even in its most coherent form, civil recourse theory literally lacks any meaningful explanation of the defensive rights at play within the tort system. Third and most importantly, Goldberg and Zipursky's theory is inescapably indefensible because it cannot cure this critical omission without simultaneously self-destructing. When recourse meets defense, it is transformed into competition. The resulting competitive framework is designed not to enable one party only—as Goldberg and Zipursky suggest—but rather to mediate and moderate the parties' combative conflict. This dramatic reinterpretation of torts not only discredits civil recourse theory; it lays the foundation for a new humanist conception of torts—one which views the tort system as a logical outgrowth of man's natural drive to reconcile and balance the instinctual, pragmatic, and moral dimensions of the human condition.
Keywords
torts,
civil recourse theory,
civil defense,
Goldberg,
Zipursky,
prescriptive,
reductive,
plural,
wrongs,
rights,
Freud,
moral development theory,
defense mechanisms,
reciprocal altruism,
triune brain theory,
social cognition theory,
neuroscience,
evolutionary biology,
due process,
probable cause
Citation Information
Alan Calnan. "DEFENSELESS SELF-DEFENSE: AN ESSAY ON GOLDBERG AND ZIPURSKY'S CIVIL RECOURSE DEFENDED"
ExpressO
(2013)
Available at: http://works.bepress.com/alan_calnan/11/