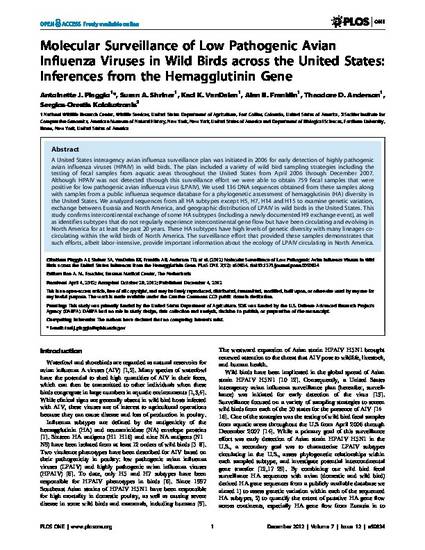 Article
Molecular Surveillance of Low Pathogenic AvianInfluenza Viruses in Wild Birds across the United States:Inferences from the Hemagglutinin Gene
PLoS One (2012)
Abstract
A United States interagency avian influenza surveillance plan was initiated in 2006 for early detection of highly pathogenic avian influenza viruses (HPAIV) in wild birds. The plan included a variety of wild bird sampling strategies including the testing of fecal samples from aquatic areas throughout the United States from April 2006 through December 2007. Although HPAIV was not detected through this surveillance effort we were able to obtain 759 fecal samples that were positive for low pathogenic avian influenza virus (LPAIV). We used 136 DNA sequences obtained from these samples along with samples from a public influenza sequence database for a phylogenetic assessment of hemagglutinin (HA) diversity in the United States. We analyzed sequences from all HA subtypes except H5, H7, H14 and H15 to examine genetic variation, exchange between Eurasia and North America, and geographic distribution of LPAIV in wild birds in the United States. This study confirms intercontinental exchange of some HA subtypes (including a newly documented H9 exchange event), as well as identifies subtypes that do not regularly experience intercontinental gene flow but have been circulating and evolving in North America for at least the past 20 years. These HA subtypes have high levels of genetic diversity with many lineages cocirculating within the wild birds of North America. The surveillance effort that provided these samples demonstrates that such efforts, albeit labor-intensive, provide important information about the ecology of LPAIV circulating in North America.
Publication Date
December 1, 2012
Citation Information
Antoinette J. Piaggio, Susan A. Shriner, Kaci Van Dalen, Alan B. Franklin, et al.. "Molecular Surveillance of Low Pathogenic AvianInfluenza Viruses in Wild Birds across the United States:Inferences from the Hemagglutinin Gene"
PLoS One
Vol. 7 Iss. 12 (2012)
Available at: http://works.bepress.com/alan_b_franklin/7/