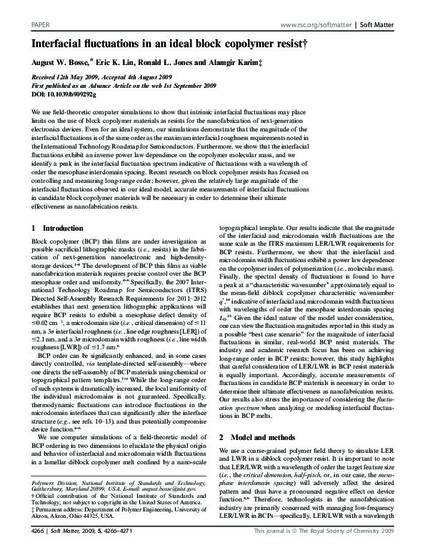 Article
Interfacial Fluctuations in an Ideal Block Copolymer Resist
Soft Matter (2009)
Abstract
We use field-theoretic computer simulations to show that intrinsic interfacial fluctuations may place limits on the use of block copolymer materials as resists for the nanofabrication of next-generation electronics devices. Even for an ideal system, our simulations demonstrate that the magnitude of the interfacial fluctuations is of the same order as the maximum interfacial roughness requirements noted in the International Technology Roadmap for Semiconductors. Furthermore, we show that the interfacial fluctuations exhibit an inverse power law dependence on the copolymer molecular mass, and we identify a peak in the interfacial fluctuation spectrum indicative of fluctuations with a wavelength of order the mesophase interdomain spacing. Recent research on block copolymer resists has focused on controlling and measuring long-range order; however, given the relatively large magnitude of the interfacial fluctuations observed in our ideal model, accurate measurements of interfacial fluctuations in candidate block copolymer materials will be necessary in order to determine their ultimate effectiveness as nanofabrication resists.
Citation Information
August W. Bosse, Eric K. Lin, Ronald L. Jones and Alamgit Karim. "Interfacial Fluctuations in an Ideal Block Copolymer Resist"
Soft Matter
Vol. 5 (2009)
Available at: http://works.bepress.com/alamgit_karim/3/