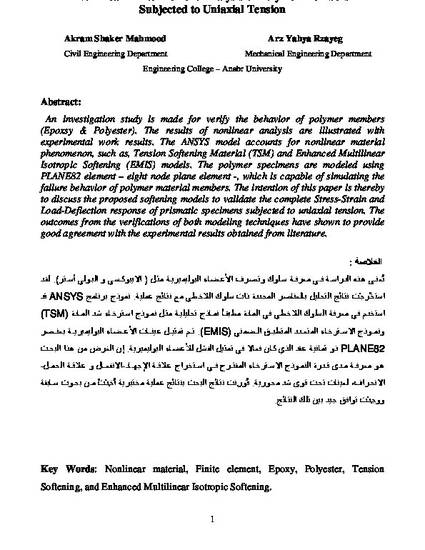 Article
Nonlinear Finite Element Analysis of Polymer Members
Anbar Journal for Engineering Sciences (2008)
Abstract
An investigation study is made for verify the behavior of polymer members (Epoxsy & Polyester). The results of nonlinear analysis are illustrated with experimental work results. The ANSYS model accounts for nonlinear material phenomenon, such as, Tension Softening Material (TSM) and Enhanced Multilinear Isotropic Softening (EMIS) models. The polymer specimens are modeled using PLANE82 element – eight node plane element -, which is capable of simulating the failure behavior of polymer material members. The intention of this paper is thereby to discuss the proposed softening models to validate the complete Stress-Strain and Load-Deflection response of prismatic specimens subjected to uniaxial tension. The outcomes from the verifications of both modeling techniques have shown to provide good agreement with the experimental results obtained from literature.
Publication Date
Winter November, 2008
Citation Information
Akram Shaker Mahmood and Arz Y Rzayeg. "Nonlinear Finite Element Analysis of Polymer Members"
Anbar Journal for Engineering Sciences
Vol. 1 Iss. 2 (2008)
Available at: http://works.bepress.com/akram_mahmood/4/