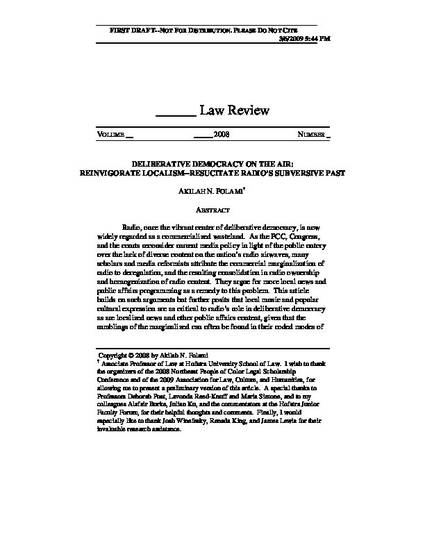 Unpublished Paper
Deliberative Democracy on Air: Reinvigorate Localism-Resuscitate Radio's Subversive Past
ExpressO (2009)
Abstract
Radio, once the vibrant center of deliberative democracy, is now widely regarded as a commercialized wasteland. As the FCC, Congress, and the courts reconsider current media policy in light of the public outcry over the lack of diverse content on the nation's radio airwaves, many scholars and media reformists attribute the commercial marginalization of radio to deregulation, and the resulting consolidation in radio ownership and homogenization of radio content. They argue for more local news and public affairs programming as a remedy to this problem. This article builds on such arguments but further posits that local music and popular cultural expression are as critical to radio's role in deliberative democracy as are localized news and other public affairs content, given that the rumblings of the marginalized can often be found in their coded modes of entertainment and culturally expressive conduct. These culturally expressive sites are essential to will formation and the deliberative process and must not be overlooked as mere entertainment or extinguished due to the top down homogenized content currently heard on the nation's radio air waves. This article is the first to specifically endorse the inclusion of music into the call to reinvigorate the localism concept on radio not simply for entertainment purposes but also for deliberative purposes. In doing so, this article calls into question the distinctions made in First Amendment scholarship between high and low speech, and in cultural studies between high and low culture. It also poses a challenge to deliberative democracy theorists who argue that overt political discourse via reasoned debate is the only means upon which the public sphere can challenge hegemonic rule.
In support of this proposition, this article examines a period in America's history--the mid-1940s to early 1950s--during the rise of rock and roll, as an example of radio's discursive and, at times, subversive past. In a segregated America, radio and the White DJs, who played rock and roll and its predecessor Black rhythm and blues, were instrumental in forging discussion and deliberation in America, at a time of intense inter-racial and inter-generational unrest between White and Black America and between White America and its younger generation. In addition, because radio continues to be considerably influential in dispersing music and in shaping and reinforcing cultural norms and understandings, its relevance remains today. Moreover, given the growing digital divide based largely on socio-economic status, radio remains all the more relevant because it is still a relatively inexpensive medium to access, and because those on the bottom of the socio-economic ladder may be unable to afford the premiums associated with the motley of other media outlets available today. Given radio's historically unique ability in facilitating marginalized group's coded subversion through music, it is imperative to ensure that music played on the radio reflects the interests of the people from the bottom up, with a particular focus on the interests of those rendered invisible by the dominant mainstream discourse.
Publication Date
March 6, 2009
Citation Information
Akilah N Folami. "Deliberative Democracy on Air: Reinvigorate Localism-Resuscitate Radio's Subversive Past"
ExpressO
(2009)
Available at: http://works.bepress.com/akilah_folami/1/