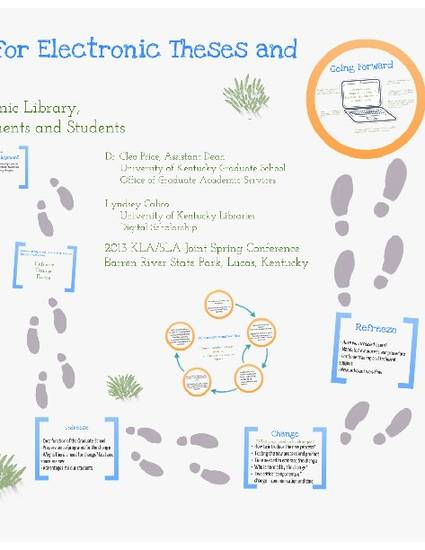 Presentation
Changing Strategies for Electronic Theses and Dissertations: Communication between an Academic Library, Graduate School, Academic Departments, and Students
Joint Spring Conference for Academic and Special Sections of the Kentucky Library Association and the Kentucky Chapter of the Special Library Association (2013)
Abstract
Technology has eliminated the need for paper copies of theses and dissertations in an academic library. The latest practice for receiving, reviewing, and archiving graduate student scholarship is to have students submit their electronic theses and dissertations (ETDs) to an institutional repository (IR). The University of Kentucky Graduate School and the University of Kentucky Libraries have teamed to create a new workflow for the online submission of ETDs to UKnowledge, the University's IR. To ensure the success of the workflow, clear and efficient communications between the library, the graduate school, academic departments, and students are imperative. This presentation addresses the communications involved in the implementation of the new online submission process.
Keywords
Electronic Theses and Dissertations,
ETDs,
Communication,
Collaboration,
Graduate School,
Academic Library,
University of Kentucky,
Outreach
Publication Date
March 20, 2013
Citation Information
Lyndsey E. Calico, Cleophus V. Price, Adrian K. Ho and Jonathan Garrett. "Changing Strategies for Electronic Theses and Dissertations: Communication between an Academic Library, Graduate School, Academic Departments, and Students"
Joint Spring Conference for Academic and Special Sections of the Kentucky Library Association and the Kentucky Chapter of the Special Library Association
(2013)
Available at: http://works.bepress.com/akho/33/