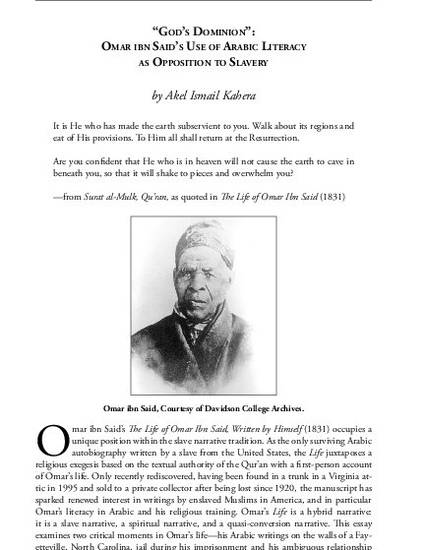 Article
God's Dominion: Omar Ibn Said use of Arabic literacy as opposition to Slavery
The South Carolina Review
Publication Date
1-1-2014
Abstract
Omar ibn Said's Th e Life of Omar Ibn Said, Written by Himself (1831) occupies a unique position within the slave narrative tradition. As the only surviving Arabic autobiography written by a slave from the United States, the Life juxtaposes a religious exegesis based on the textual authority of the Qur'an with a first-person account of Omar's life. Only recently rediscovered, having been found in a trunk in a Virginia at-tic in 1995 and sold to a private collector after being lost since 1920, the manuscript has sparked renewed interest in writings by enslaved Muslims in America, and in particular Omar's literacy in Arabic and his religious training. Omar's Life is a hybrid narrative: it is a slave narrative, a spiritual narrative, and a quasi-conversion narrative. Th is essay examines two critical moments in Omar's life—his Arabic writings on the walls of a Fayetteville, North Carolina, jail during his imprisonment and his ambiguous relationship to Christianity later in life. Omar's meditation on the Qur'anic chapter Al-Mulk, which means "Dominion" or "Sovereignty," encapsulates the contradictions between these narrative modes, challenges the religious sanction of slavery, and undermines the practice of granting slaveholders dominion over other human beings.
Citation Information
Akel Kahera. "God's Dominion: Omar Ibn Said use of Arabic literacy as opposition to Slavery"
The South Carolina Review
(2014)
Available at: http://works.bepress.com/akel_kahera/1/