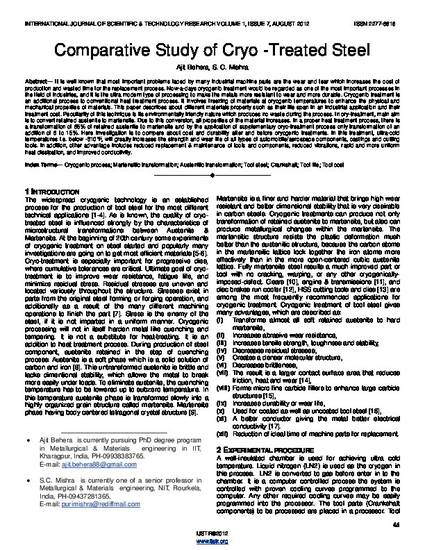 Article
Comparative Study of Cryo -Treated Steel
INTERNATIONAL JOURNAL OF SCIENTIFIC & TECHNOLOGY RESEARCH (2012)
Abstract
— It is well known that most important problems faced by many industrial machine parts are the wear and tear which increases the cost of production and wasted time for the replacement process. Now-a-days cryogenic treatment would be regarded as one of the most important processes in the field of industries, and it is the ultra modern type of processing to make the metals more resistant to wear and more durable. Cryogenic treatment is an additional process to conventional heat treatment process. It involves freezing of materials at cryogenic temperatures to enhance the physical and mechanical properties of materials. This paper describes about different materials property such as their life span in an industrial application and their treatment cost. Peculiarity of this technique is its environmentally friendly nature which produces no waste during the process. In cry-treatment, main aim is to convert retained austenite to martensite. Due to this conversion, all properties of the material increases. In a proper heat treatment process, there is a transformation of 85% of retained austenite to martensite and by the application of supplementary cryo-treatment process only transformation of an addition of 8 to 15%. Here investigation is to compare about cost and durability after and before cryogenic treatments. In this treatment, ultra-cold temperatures i.e. below -310°F, will greatly increases the strength and wear life of all types of automobile/aerospace components, castings and cutting tools. In addition, other advantage includes reduced replacement & maintenance of tools and components, reduced vibrations, rapid and more uniform heat dissipation, and improved conductivity.
Keywords
Cryogenic process; Martensitic transformation; Austenitic transformation; Tool steel; Crankshaft; Tool life; Tool cost
Publication Date
August, 2012
Citation Information
Ajit Behera. "Comparative Study of Cryo -Treated Steel"
INTERNATIONAL JOURNAL OF SCIENTIFIC & TECHNOLOGY RESEARCH
Vol. 1 Iss. 7 (2012)
Available at: http://works.bepress.com/ajitbehera/31/