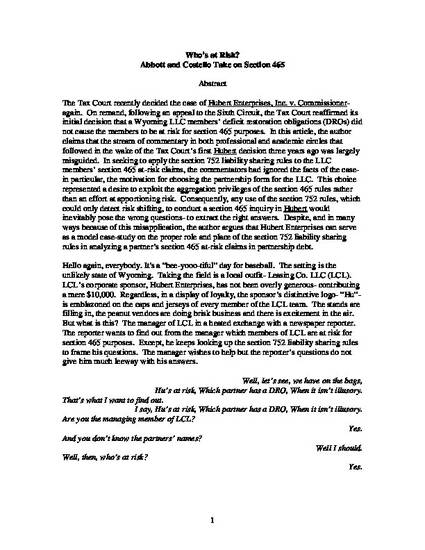 Unpublished Paper
Who's at Risk? Abbott and Costello Take on Section 465
ExpressO (2008)
Abstract
Hello again, everybody. It's a "bee-yooo-tiful" day for baseball. The setting is the unlikely state of Wyoming. Taking the field is a local outfit- Leasing Co. LLC (LCL). LCL's corporate sponsor, Hubert Enterprises, has not been overly generous- contributing a mere $10,000. Regardless, in a display of loyalty, the sponsor's distinctive logo- "Hu"- is emblazoned on the caps and jerseys of every member of the LCL team. The stands are filling in, the peanut vendors are doing brisk business and there is excitement in the air. But what is this? The manager of LCL in a heated exchange with a newspaper reporter. The reporter wants to find out from the manager which members of LCL are at risk for section 465 purposes. Except, he keeps looking up the section 752 liability sharing rules to frame his questions. The manager wishes to help but the reporter's questions do not give him much leeway with his answers.
"Well, let's see, we have on the bags, Hu's at risk, Which partner has a DRO, When it isn't illusory."
"That's what I want to find out."
"I say, Hu's at risk, Which partner has a DRO, When it isn't illusory."
"Are you the managing member of LCL?"
"Yes."
"And you don't know the partners' names?"
"Well I should."
"Well, then, who's at risk?"
"Yes."
Keywords
Partnership taxation; Individual income taxation; LLC member liability.
Citation Information
Ajay Gupta. "Who's at Risk? Abbott and Costello Take on Section 465"
ExpressO
(2008)
Available at: http://works.bepress.com/ajay_gupta/1/