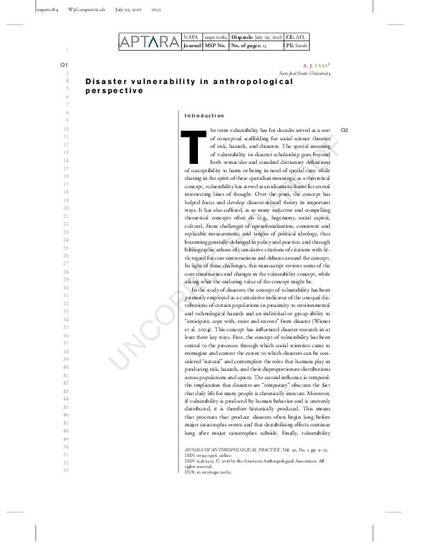 Article
Disaster Vulnerability in Anthropological Perspective
The Annals of Anthropological Practice (2016)
Abstract
In the study of disasters, the concept of vulnerability has been primarily employed as a cumulative indicator of the unequal distributions of certain populations in proximity to environmental and technological hazards and an individual or group ability to "anticipate, cope with, resist and recover" from disaster (Wisner et al. 2004). This concept has influenced disaster research as a means to question how natural, temporary, and random disasters are and focused analysis on the human-environmental processes that produce disasters and subject some populations more than others to risk and hazards. Critics also point out that vulnerability frameworks elude measure, strip people of agency, and reify stereotypes of the Global South. In light of both the historical importance and the sustained critiques of the concept, this chapter looks to anthropological and related literature to explore several questions: is it possible that vulnerability has outlived its usefulness? Is it still analytically meaningful for anthropologists currently working in the area of risk, hazards, and disasters? And what are the potential consequences or benefits that could come with conveying the concept of vulnerability to policy and decision makers?
Citation Information
A. J. Faas. "Disaster Vulnerability in Anthropological Perspective"
The Annals of Anthropological Practice
Vol. 40 Iss. 1 (2016) p. 14 - 27
Available at: http://works.bepress.com/aj_faas/16/