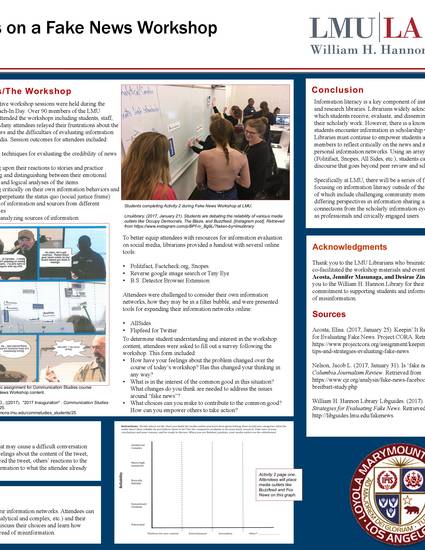 Other
Keepin' It Real Poster, National Conference of African-American Librarians 2017
(2017)
Abstract
After an election fraught with misinformation, fake news, and hoaxes on all sides, students found it difficult to navigate digital media not only for scholarship but in their personal lives. Acknowledging the impact that these feelings of helplessness and confusion play in their roles as scholars, librarians conducted information literacy workshops to de-mystify and engage students with meaningful current news outlets and specific news stories from all political idealogies. This poster presentation will provide an overview of these workshops and how librarians can implement similar programs while responding to a politically and emotionally-charged campus environment. This poster will discuss the workshop development process which includes defining how information literacy may be applied to born-digital source material, learning outcomes for attendees, tools for managing misinformation, collaborating with the campus-wide programming simultaneously, and examples of active engagement opportunities for students to evaluate their own biases and perspectives both in and out of the classroom. Additionally, it will discuss the assessment process and the real-time feedback received in the workshops from members of the campus community. While these workshops occurred in an academic environment, application for such programming can be altered for every library and audience. Librarians know that information literacy education has been done for a very long time, however, it must offer connective and intrinsic ways to evaluate information as students grow as both scholars and human beings.
Publication Date
Summer August 11, 2017
Citation Information
Conner-Gaten, Aisha. "Keepin' It Real: Tips and Strategies for Evaluating Fake News." National Conference of African-American Librarians, Black Caucus of the American Library Association, 11 August 2017, Grand Hyatt Regency Buckhead, Atlanta, GA. Poster presentation.
Creative Commons license
This work is licensed under a Creative Commons CC_BY-NC-SA International License.