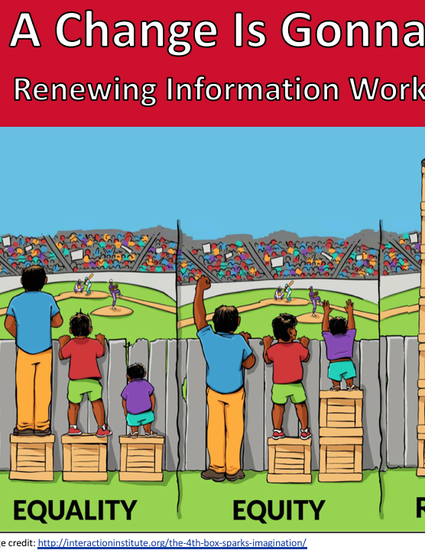 Presentation
A Change Is Gonna Come: Renewing Information Worker's Commitment to Social Justice
California Academic & Research Libraries Conference 2018 (2018)
Abstract
Librarians and library staff have always tried to uphold the Library Bill of Rights, specifically the access and use of the library collections and space, but are we just a neutral bridge to information or something more?
In
 an
 era
 increasingly defined by the socioeconomic and educational inequalities, the digital divide, the resurgence of white supremacy and Islamophobia, and "
fake news
", we as 
information workers must 
challenge how we have understood our roles in the library.
In response to this charge, the William H. Hannon Library 
staff development committee
 created and facilitated a day-long examination of social justice for librarians and library staff at Loyola Marymount University. 
Our presentation
 will reflect on this day including the development of supporting materials and active learning activities, immediate staff response and issues that emerged from participants, and
future directions taken as a result of this session. Attendees will perform the activities from this staff development session including understanding microaggressions and examining biases and their effects on 
library services and the library as a collective space
, as well as the tacit assumption that all patrons are middle class, white, and Christian.
Keywords
staff development,
social justice,
CARL
Publication Date
Spring April 14, 2018
Location
Redwood City, CA
Citation Information
Elisa Slater Acosta, Aisha Conner-Gaten, Javier Garibay, Rhonda Rhosen, et al.. "A Change Is Gonna Come: Renewing Information Worker's Commitment to Social Justice"
California Academic & Research Libraries Conference 2018
(2018)
Available at: http://works.bepress.com/aisha-conner-gaten/16/
Creative Commons License
This work is licensed under a Creative Commons CC_BY-NC-SA International License.