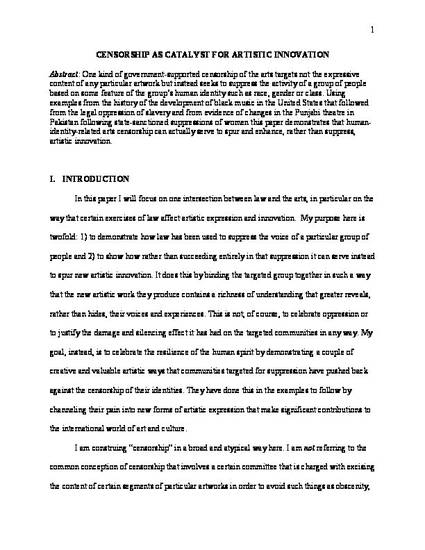 Article
Censorship as Catalyst for Artistic Innovation
Journal for Peace and Justice Studies
Publication Date
1-1-2014
Abstract
One kind of government-supported censorship of the arts targets not the expressive content of any particular artwork but instead seeks to suppress the activity of a group of people based on some feature of the group's human identity such as race, gender or class. Using examples from the history of the development of black music in the United States that followed from the legal oppression of slavery and from evidence of changes in the Punjabi theater in Pakistan following state-sanctioned suppressions of women, this paper demonstrates that human identity-related arts censorship can actually serve to spur and enhance, rather than suppress, artistic innovation.
Document Version
Postprint
Copyright
Copyright © 2013, Center for Peace and Justice Studies, Villanova University.
Publisher
Center for Peace and Justice Education, Villanova University
Place of Publication
Villanova, PA
Citation Information
Aili W. Bresnahan. "Censorship as Catalyst for Artistic Innovation"
Journal for Peace and Justice Studies
Vol. 23 Iss. 2 (2014)
Available at: http://works.bepress.com/aili_bresnahan/7/