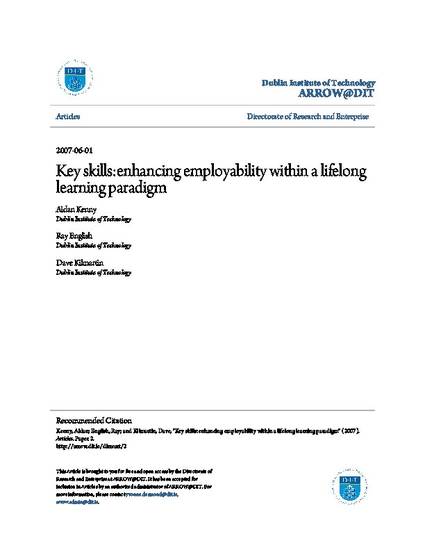 Article
Key Skills Framework: Enhancing Employability Within a Lifelong Learning Paradigm
Articles
Publication Date
2007-6-1
Rights
This item is available under a Creative Commons License for non-commercial use only
Abstract
Employability has become an area of interest among the general public and policy makers alike, with an increasing number of reports in the general media regarding the need for workers in certain sectors to up-skill due to the possible threat of job 'displacement'. In addition, there has been an increase in education and training policy documents emphasising that citizens should pursue Lifelong Learning /Life Wide Learning to address the increased job-related uncertainty attributed to the globalisation process and the concomitant competitive threats. Academics such as Barnett (2005) claim that we are living in an era of 'super complexity' and rapid change where even trade unions are beginning to come to terms with the notion that in the present employment climate 'change is a given rather than an exception'. Within this framework of change, of global economics, of mobility of capital and labour, and of social flux, the Irish economy has outperformed many of her fellow European Union (EU) member states in terms of both GDP and GNP (see note 4). However, the pertinent question now posed is how will Ireland maintain this competitive advantage moving forward? While the answer to this question is multi-dimensional and complex, requiring expert input from various academics, professional bodies and other interested parties, there is nonetheless a growing acceptance that education and training are fundamental to the development of a sustainable solution. This working paper presents a conceptual framework and signposts a research process presently being utilised by a research team to explore employability and a social construct. As such, the reader is presented with emergent work and invited to contribute to this early stage of the research process.
Citation Information
Kenny, A., English, R. & D. Kilmartin. (2007) Key skills framework: enhancing employability within a lifelong learning paradigm.
Level3
, issue 5. doi:10.2139/ssrn.960942