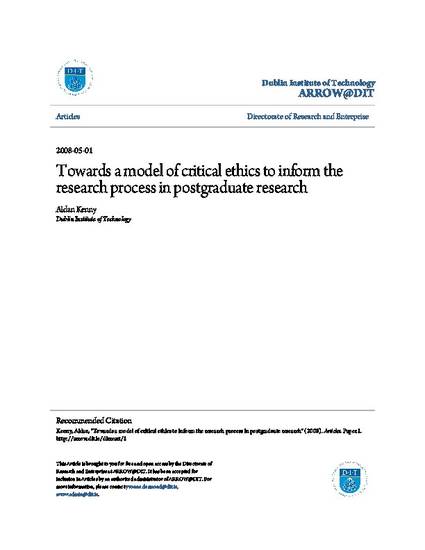 Article
Towards a Model of Critical Ethics to Inform the Research Process in Postgraduate Research
Articles
Publication Date
2008-5-1
Rights
This item is available under a Creative Commons License for non-commercial use only
Abstract
The ethics narrative has become embedded in the contemporary research process, as evident in the emergence of Ethical Committees in faculty and both public and private organisations. Ethics have been codified, made visible and accessible as text artefacts in the forms of (both voluntary and regulatory) codes, statements, conventions, guidelines, principles, procedures, practices. In this short paper I explore this codification of ethics from the period post WWII, detailing some of the milestone text artefacts.
Citation Information
Kenny, A. (2008). Towards a Model of Critical Ethics to Inform the Research Process in Postgraduate Research.
Level3
, no.6. May, 2008. doi:10.21427/D79G8V