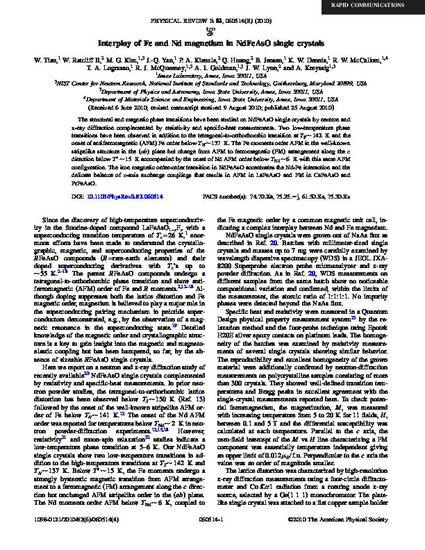 Article
Interplay of Fe and Nd magnetism in NdFeAsO single crystals
Physical Review B
Publication Date
8-25-2010
DOI
10.1103/PhysRevB.82.060514
Abstract
The structural and magnetic phase transitions have been studied on NdFeAsO single crystals by neutron and x-ray diffraction complemented by resistivity and specific-heat measurements. Two low-temperature phase transitions have been observed in addition to the tetragonal-to-orthorhombic transition at TS∼142 K and the onset of antiferromagnetic (AFM) Fe order belowTN∼137 K. The Fe moments order AFM in the well-known stripelike structure in the (ab) plane but change from AFM to ferromagnetic (FM) arrangement along the c direction below T∗∼15 K accompanied by the onset of Nd AFM order below TNd∼6 K with this same AFM configuration. The iron magnetic order-order transition in NdFeAsO accentuates the Nd-Fe interaction and the delicate balance of c-axis exchange couplings that results in AFM in LaFeAsO and FM in CeFeAsO and PrFeAsO.
Copyright Owner
American Physical Society
File Format
application/pdf
Citation Information
W. Tian, W. Ratcliff, M. G. Kim, J.-Q. Yan, et al.. "Interplay of Fe and Nd magnetism in NdFeAsO single crystals"
Physical Review B
Vol. 82 Iss. 6 (2010) p. 060514(R)
Available at: http://works.bepress.com/ai-goldman/19/