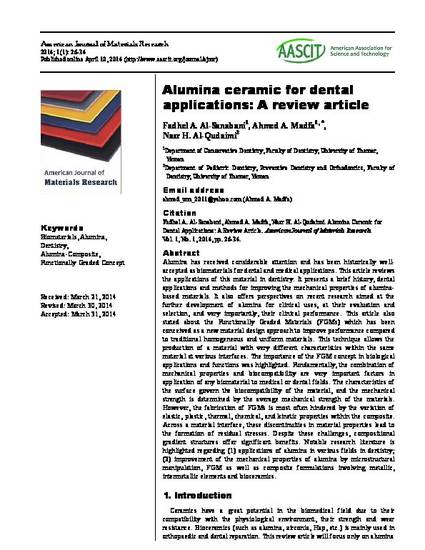 Article
Alumina Ceramic for Dental Applications: A Review Article.
American Journal of Materials Research (2014)
Abstract
Alumina has received considerable attention and has been historically wellaccepted as biomaterials for dental and medical applications. This article reviews the applications of this material in dentistry. It presents a brief history, dental applications and methods for improving the mechanical properties of aluminabased materials. It also offers perspectives on recent research aimed at the further development of alumina for clinical uses, at their evaluation and selection, and very importantly, their clinical performance. This article also stated about the Functionally Graded Materials (FGMs) which has been conceived as a new material design approach to improve performance compared to traditional homogeneous and uniform materials. This technique allows the production of a material with very different characteristics within the same material at various interfaces. The importance of the FGM concept in biological applications and functions was highlighted. Fundamentally, the combination of mechanical properties and biocompatibility are very important factors in application of any biomaterial to medical or dental fields. The characteristics of the surface govern the biocompatibility of the material, and the mechanical strength is determined by the average mechanical strength of the materials. However, the fabrication of FGMs is most often hindered by the variation of elastic, plastic, thermal, chemical, and kinetic properties within the composite. Across a material interface, these discontinuities in material properties lead to the formation of residual stresses. Despite these challenges, compositional gradient structures offer significant benefits. Notable research literature is highlighted regarding (1) applications of alumina in various fields in dentistry; (2) improvement of the mechanical properties of alumina by microstructural manipulation, FGM as well as composite formulations involving metallic, intermetallic elements and bioceramics.
Keywords
Biomaterials,
Alumina,
Dentistry,
Alumina-Composite,
Functionally Graded Concept
Publication Date
Winter April 10, 2014
Citation Information
Ahmed A. Madfa. "Alumina Ceramic for Dental Applications: A Review Article."
American Journal of Materials Research
Vol. 1 Iss. 1 (2014)
Available at: http://works.bepress.com/ahmed_madfa/12/