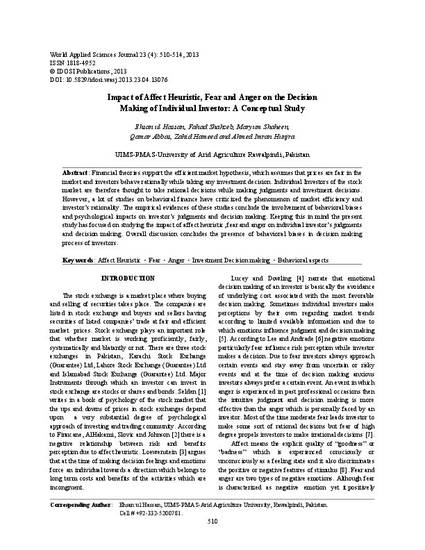 Article
Impact of Affect Heuristic, Fear and Anger on Decision Making of Individual Investor: A Conceptual Study
World Applied Sciences Journal (2013)
Abstract
Financial theories support the efficient market hypothesis, which assumes that prices are fair in the market and investors behave rationally while taking any investment decision. Individual Investors of the stock market are therefore thought to take rational decisions while making judgments and investment decisions. However, a lot of studies on behavioral finance have criticized the phenomenon of market efficiency and investor's rationality. The empirical evidences of these studies conclude the involvement of behavioral biases and psychological impacts on investor's judgments and decision making. Keeping this in mind the present study has focused on studying the impact of affect heuristic, fear and anger on individual investor's judgments and decision making. Overall discussion concludes the presence of behavioral biases in decision making process of investors.
Keywords
Affect Heuristic,
Fear,
Anger,
Investment Decision making,
Behavioral aspects
Publication Date
Winter January 14, 2013
Citation Information
Ehsan ul Hassan, Fahad Shahzeb, Maryum Shaheen, Qamar Abbas, et al.. "Impact of Affect Heuristic, Fear and Anger on Decision Making of Individual Investor: A Conceptual Study"
World Applied Sciences Journal
Vol. 23 Iss. 4 (2013)
Available at: http://works.bepress.com/ahmed_hunjra/37/