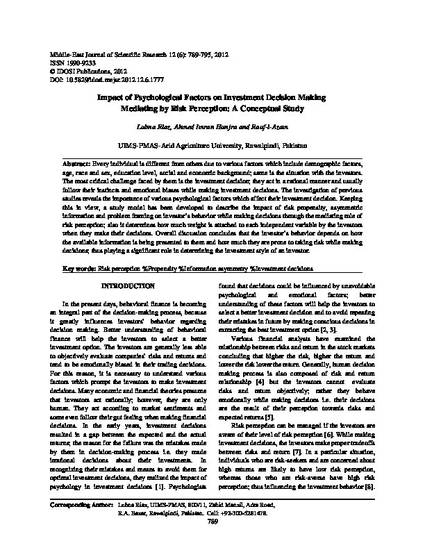 Article
Impact of psychological factors on investment decision making mediating by risk perception: A conceptual study
Middle East Journal of Scientific Research (2012)
Abstract
Every individual is different from others due to various factors which include demographic factors, age, race and sex, education level, social and economic background; same is the situation with the investors. The most critical challenge faced by them is the investment decision; they act in a rational manner and usually follow their instincts and emotional biases while making investment decisions. The investigation of previous studies reveals the importance of various psychological factors which affect their investment decision. Keeping this in view, a study model has been developed to describe the impact of risk propensity, asymmetric information and problem framing on investor's behavior while making decisions through the mediating role of risk perception; also it determines how much weight is attached to each independent variable by the investors when they make their decisions. Overall discussion concludes that the investor's behavior depends on how the available information is being presented to them and how much they are prone to taking risk while making decisions; thus playing a significant role in determining the investment style of an investor.
Keywords
Risk perception,
Propensity,
Information asymmetry,
Investment decisions
Publication Date
Fall December 15, 2012
Citation Information
Lubna Riaz, Ahmed Imran Hunjra and Rauf i Azam. "Impact of psychological factors on investment decision making mediating by risk perception: A conceptual study"
Middle East Journal of Scientific Research
Vol. 12 Iss. 6 (2012)
Available at: http://works.bepress.com/ahmed_hunjra/36/