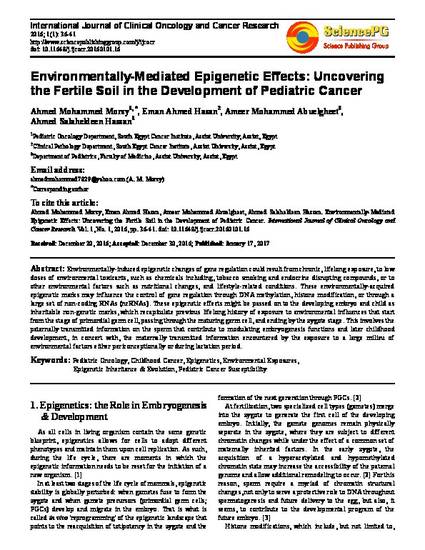 Article
Environmentally-Mediated Epigenetic Effects: Uncovering the Fertile Soil in the Development of Pediatric Cancer
International Journal of Clinical Oncology and Cancer Research (2017)
Abstract
Environmentally-induced epigenetic changes of gene regulation could result from chronic, lifelong exposure, to low doses of environmental toxicants, such as chemicals including, tobacco smoking and endocrine disrupting compounds, or to other environmental factors such as nutritional changes, and lifestyle-related conditions. These environmentally-acquired epigenetic marks may influence the control of gene regulation through DNA methylation, histone modification, or through a large set of non-coding RNAs (ncRNAs). These epigenetic effects might be passed on to the developing embryo and child as inheritable non-genetic marks, which recapitulate previous lifelong history of exposure to environmental influences that start from the stage of primordial germ cell, passing through the maturing germ cell, and ending by the zygote stage. This involves the paternally transmitted information on the sperm that contribute to modulating embryogenesis functions and later childhood development, in concert with, the maternally transmitted information encountered by the exposure to a large milieu of environmental factors either periconceptionally or during lactation period.
Keywords
Pediatric Oncology,
Cancer Epigenetics,
Environmental Exposure,
Epigenetics,
Gene-Environment Interaction,
Transgenerational Inheritance,
Epigenetic Remodeling & Evolution,
Developmental Reprogramming
Publication Date
January 17, 2017
DOI
10.11648/j.ijcocr.20160101.16
Citation Information
Ahmed Mohammed Morsy, Eman Ahmed Hasan, Ameer Mohammed Abuelgheet and Ahmed Salaheldeen Hassan. "Environmentally-Mediated Epigenetic Effects: Uncovering the Fertile Soil in the Development of Pediatric Cancer"
International Journal of Clinical Oncology and Cancer Research
Vol. 1 Iss. 1 (2017) p. 36 - 41
Available at: http://works.bepress.com/ahmed-mohammed-morsy/3/