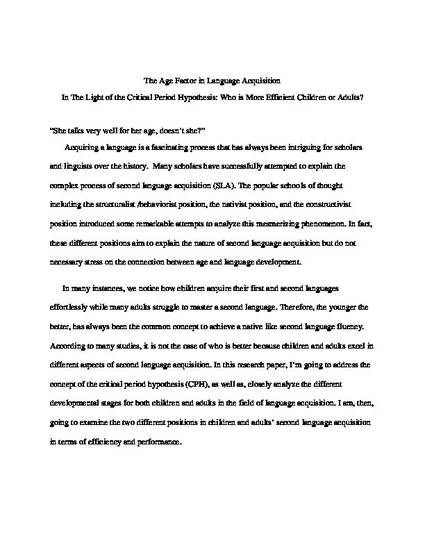 Article
The Age Factor in Language Acquisition
California State University of East Bay (2013)
Abstract
"She talks very well for her age, doesn't she?" Acquiring a language is a fascinating process that has always been intriguing for scholars and linguists over the history. Many scholars have successfully attempted to explain the complex process of second language acquisition (SLA). The popular schools of thought including the structuralist /behaviorist position, the nativist position, and the constructivist position introduced some remarkable attempts to analyze this mesmerizing phenomenon. In fact, these different positions aim to explain the nature of second language acquisition but do not necessary stress on the connection between age and language development. In many instances, we notice how children acquire their first and second languages effortlessly while many adults struggle to master a second language. Therefore, the younger the better, has always been the common concept to achieve a native like second language fluency. According to many studies, it is not the case of who is better because children and adults excel in different aspects of second language acquisition. In this research paper, I'm going to address the concept of the critical period hypothesis (CPH), as well as, closely analyze the different developmental stages for both children and adults in the field of language acquisition. I am, then, going to examine the two different positions in children and adults' second language acquisition in terms of efficiency and performance.
Publication Date
Winter January 6, 2013
Citation Information
Ahlam Alfouaim. "The Age Factor in Language Acquisition"
California State University of East Bay
(2013)
Available at: http://works.bepress.com/ahlam_alfouaim/4/