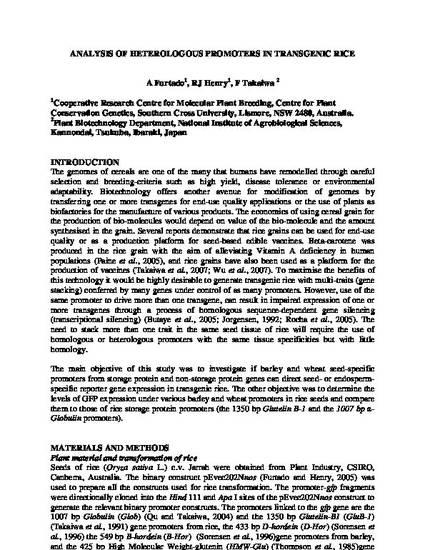 Presentation
Analysis of heterologous promoters in transgenic cereals
58th Australian Cereal Chemistry Conference
Document Type
Presentation
Publication Date
1-1-2008
Abstract
The genomes of cereals are one of the many that humans have remodelled through careful selection and breeding-criteria such as high yield, disease tolerance or environmental adaptability. Biotechnology offers another avenue for genome modification by transferring one or more transgenes for end-use quality or other applications. To maximise the benefits of this technology it would be highly desirable to generate the desired transgenic cereals with multi-traits (gene stacking) conferred by many genes under control of as many promoters. However, use of the same promoter to drive more than one transgene, can result in impaired expression of one or more transgenes through a process of homologous sequence-dependent gene silencing (transcriptional silencing). The need to stack more than one trait in the same seed tissue of rice will require the use of homologous or heterologous promoters with the same tissue specificities but with little homology. We report the spatial and temporal control of expression by several promoters in transgenic cereals and their potential to drive high levels of transgene expression in the cereal grain.
Citation Information
Furtado, A, Henry, RJ, Pellegrineschi, A & Takaiwa, F 2008, 'Analysis of heterologous promoters in transgenic cereals', paper presented to 58th Australian Cereal Chemistry Conference, Gold Coast, Qld., 31 August - 4 September.