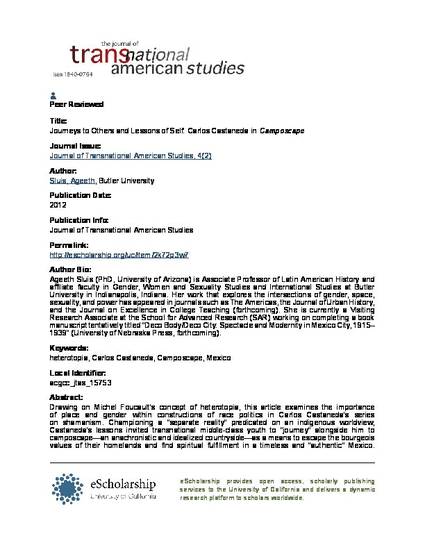 Article
Journeys to Others and Lessons of Self: Carlos Castaneda in Camposcape
Journal of Transnational American Studies
Publication Date
12-1-2012
Additional Publication URL
http://escholarship.org/uc/item/2k72p3w7
Abstract
Drawing on Michel Foucault's concept of heterotopia, this article examines the importance of place and gender within constructions of race politics in Carlos Castaneda's series on shamanism. Championing a "separate reality" predicated on an indigenous worldview, Castaneda's lessons invited transnational middle-class youth to "journey" alongside him to camposcape—an anachronistic and idealized countryside—as a means to escape the bourgeois values of their homelands and find spiritual fulfillment in a timeless and "authentic" Mexico. Castaneda's work proposed new viable spaces of difference in Mexico, yet inscribed these spaces with a masculinist discourse that served to neutralize the gender trouble within the counterculture movement in both Mexico and the US.
Citation Information
Sluis, Ageeth. "Journeys to Others and Lessons of Self: Carlos Castaneda in
Camposcape
."
Journal of Transnational American Studies
4.2 (2012). Available from: http://digitalcommons.butler.edu/facsch_papers/298