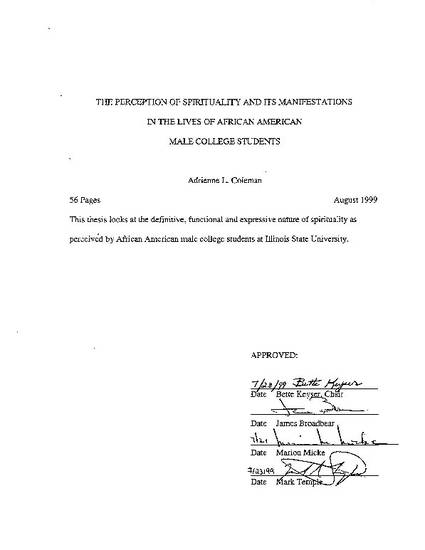 Popular Press
The Perception of Spirituality and its Manifestations in the lives of African American Male College Students
Department of Health, Physical Education and Recreation, Illinois State University (1999)
Abstract
This study initiated in response to the lack of information on spirituality in African Americans and more specifically African American males. It is very important that spirituality be studied to make health educators knowledgeable about its overall nature. With awareness the health educators will be prepared to implement health promotion interventions that are appropriate and consistent with the beliefs of this subculture. The literature regarding this subject addressed many different aspects of spirituality. There was only a minute amount of information on African Americans and even less on African American males. Instead the literature search concentrated on areas such as: spiritual health; spirituality from different world perspectives including African, Christian, African American women, feminist and ecological points of view; shaping of spirituality, spiritual movements in African Americans and the African American male overall. The literature suggests that spirituality throughout time has been an important entity, but has also lost its value and true meaning. This study was conducted utilizing a qualitative research design. Focus groups were used as the method of data collection. Twenty -five African American males were recruited to participate in the focus groups. Once the date was collected; it was content analyzed, coded and categorized to establish themes, patterns and relationships. The findings were consistent with the literature in some instances, but there was one element totally unique. Struggle was discovered as the underlying premise behind the development or underdevelopment of spirituality. A model of meaning was diagramed in order to gain a deeper level of understanding.
Publication Date
August, 1999
Citation Information
Adrienne Coleman. "The Perception of Spirituality and its Manifestations in the lives of African American Male College Students"
Department of Health, Physical Education and Recreation, Illinois State University
(1999)
Available at: http://works.bepress.com/adrienne_coleman/6/