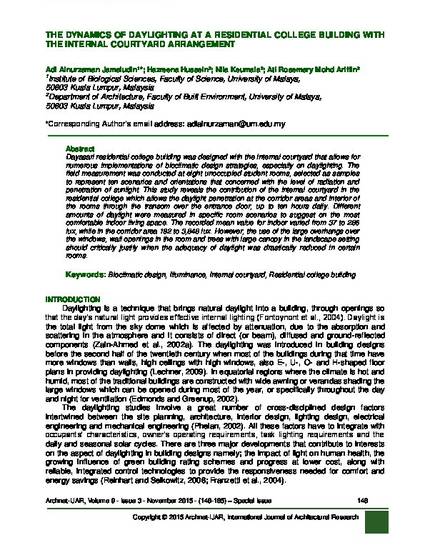 Article
The Dynamics of Daylighting at a Residential College Building with the Internal Courtyard Arrangement
International Journal of Architectural Research (2015)
Abstract
Dayasari residential college building was designed with the internal courtyard that allows for numerous implementations of bioclimatic design strategies, especially on daylighting. The field measurement was conducted at eight unoccupied student rooms, selected as samples to represent ten scenarios and orientations that concerned with the level of radiation and penetration of sunlight. This study reveals the contribution of the internal courtyard in the residential college which allows the daylight penetration at the corridor areas and interior of the rooms through the transom over the entrance door, up to ten hours daily. Different amounts of daylight were measured in specific room scenarios to suggest on the most comfortable indoor living space. The recorded mean value for indoor varied from 37 to 286 lux, while in the corridor area 192 to 3,848 lux. However, the use of the large overhangs over the windows, wall openings in the room and trees with large canopy in the landscape setting should critically justify when the adequacy of daylight was drastically reduced in certain rooms.
Keywords
Bioclimatic design,
Illuminance,
Internal courtyard,
Residential college building
Citation Information
Adi Ainurzaman Jamaludin. "The Dynamics of Daylighting at a Residential College Building with the Internal Courtyard Arrangement"
International Journal of Architectural Research
Vol. 9 Iss. 3 (2015)
Available at: http://works.bepress.com/adiainurzaman/31/