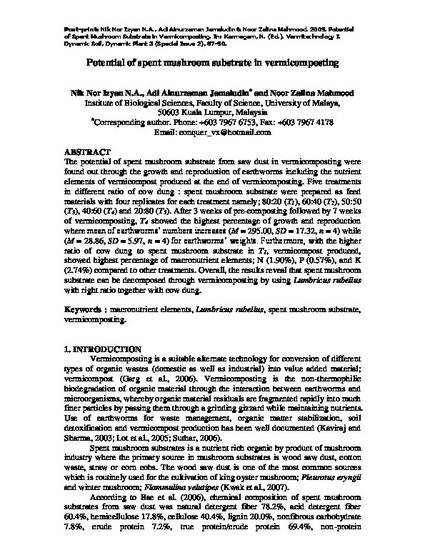 Article
Potential of spent mushroom substrate in vermicomposting
Vermitechnology I. Dynamic Soil, Dynamic Plant 3 (2009)
Abstract
The potential of spent mushroom substrate from saw dust in vermicomposting were found out through the growth and reproduction of earthworms including the nutrient elements of vermicompost produced at the end of vermicomposting. Five treatments in different ratio of cow dung : spent mushroom substrate were prepared as feed materials with four replicates for each treatment namely; 80:20 (T1), 60:40 (T2), 50:50 (T3), 40:60 (T4) and 20:80 (T5). After 3 weeks of pre-composting followed by 7 weeks of vermicomposting, T4 showed the highest percentage of growth and reproduction where mean of earthworms' numbers increases (M = 295.00, SD = 17.32, n = 4) while (M = 28.86, SD = 5.97, n = 4) for earthworms' weights. Furthermore, with the higher ratio of cow dung to spent mushroom substrate in T1, vermicompost produced, showed highest percentage of macronutrient elements; N (1.90%), P (0.57%), and K (2.74%) compared to other treatments. Overall, the results reveal that spent mushroom substrate can be decomposed through vermicomposting by using Lumbricus rubellus with right ratio together with cow dung.
Keywords
macronutrient elements,
Lumbricus rubellus,
spent mushroom substrate,
vermicomposting
Citation Information
Adi Ainurzaman Jamaludin and Noor Zalina Mahmood. "Potential of spent mushroom substrate in vermicomposting"
Vermitechnology I. Dynamic Soil, Dynamic Plant 3
Iss. (Special Issue 2) (2009)
Available at: http://works.bepress.com/adiainurzaman/10/