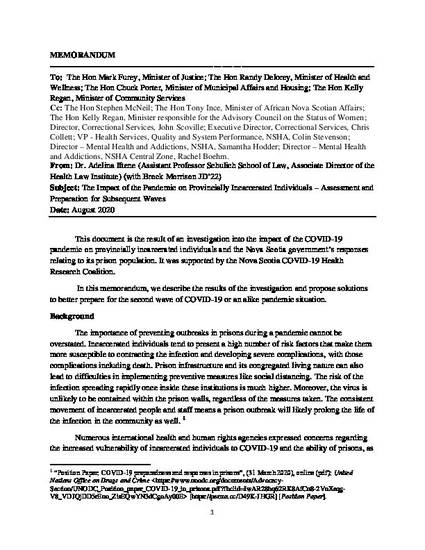 Article
COVID-19 Provincially Incarcerated Individuals - A Policy Report
Articles, Book Chapters, & Popular Press
Document Type
Response or Comment
Publication Date
8-1-2020
Keywords
COVID-19,
provincial incarceration,
impact of pandemic,
prison populations,
solutions
Abstract
This document is the result of an investigation into the impact of the COVID-19 pandemic on provincially incarcerated individuals and the Nova Scotia government's responses relating to its prison population. It was supported by the Nova Scotia COVID-19 Health Research Coalition. In this memorandum, we describe the results of the investigation and propose solutions to better prepare for the second wave of COVID-19 or an alike pandemic situation.
Citation Information
Adelina Iftene, "COVID-19 Provincially Incarcerated Individuals - A Policy Report," Memorandum from Adelina Iftene to Hon Mark Furey, et al (August 2020).