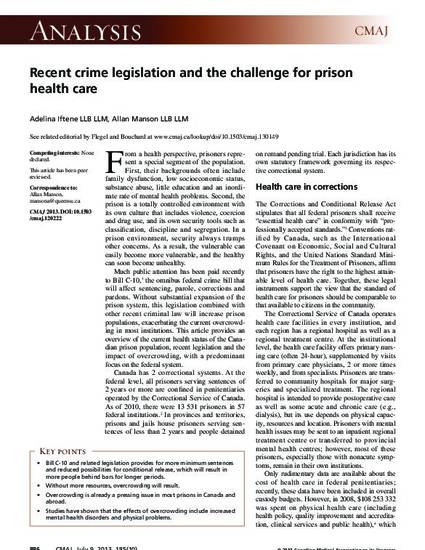 Article
Recent Crime Legislation: The Challenge for Prison Health Care
Articles, Book Chapters, & Popular Press
Publication Date
1-1-2012
Keywords
prison health care,
Canada,
overcrowding,
Bill C-10
Abstract
This article reviews the potential effects of Bill C-10 and related legislation that provide for more legal minimum sentences and reduce the possibility of conditional release. Without more resources overcrowding - an already pressing issue in Canadian corrections - will increase. We further review the potential effects of overcrowding as exemplified in other jurisdiction.
Creative Commons License
Creative Commons Attribution-NonCommercial-No Derivative Works 4.0 International
Publication Abbreviation
CMAJ
Citation Information
Adelina Iftene & Allan Manson, "Recent Crime Legislation: The Challenge for Prison Health Care" (2012) 185:10 CMAJ 886.