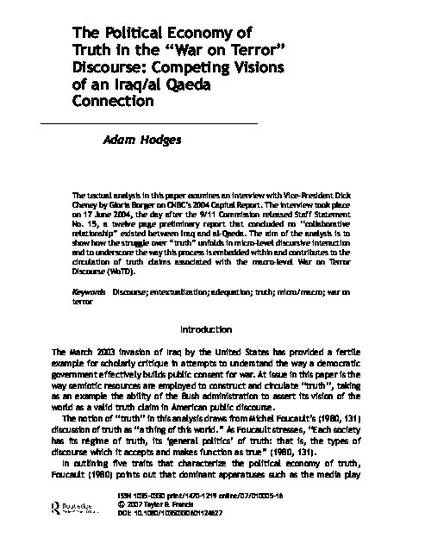 Article
The Political Economy of Truth in the 'War on Terror' Discourse: Competing Visions of an Iraq/al Qaeda Connection
Social Semiotics (2007)
Abstract
The textual analysis in this paper examines an interview with Vice-President Dick Cheney by Gloria Borger on CNBC's 2004 Capital Report. The interview took place on 17 June 2004, the day after the 9/11 Commission released Staff Statement No. 15, a twelve page preliminary report that concluded no ''collaborative relationship'' existed between Iraq and al-Qaeda. The aim of the analysis is to show how the struggle over ''truth'' unfolds in micro-level discursive interaction and to underscore the way this process is embedded within and contributes to the circulation of truth claims associated with the macro-level War on Terror Discourse (WoTD).
Keywords
discourse,
entextualization,
adequation,
truth,
micro/macro,
war on terror
DOI
10.1080/10350330601124627
Citation Information
Adam Hodges. "The Political Economy of Truth in the 'War on Terror' Discourse: Competing Visions of an Iraq/al Qaeda Connection"
Social Semiotics
Vol. 17 Iss. 1 (2007)
Available at: http://works.bepress.com/adamhodges/6/