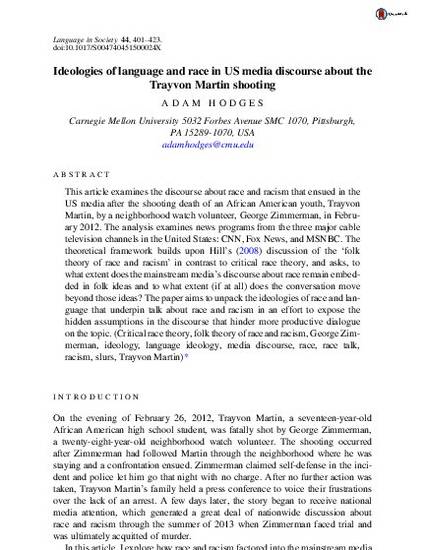 Article
Ideologies of Language and Race in US Media Discourse about the Trayvon Martin Shooting
Language in Society (2015)
Abstract
This article examines the discourse about race and racism that ensued in the US media after the shooting death of an African American youth, Trayvon Martin, by a neighborhood watch volunteer, George Zimmerman, in February 2012. The analysis examines news programs from the three major cable television channels in the United States: CNN, Fox News, and MSNBC. The theoretical framework builds upon Hill's (2008) discussion of the 'folk theory of race and racism' in contrast to critical race theory, and asks, to what extent does the mainstream media's discourse about race remain embedded in folk ideas and to what extent (if at all) does the conversation move beyond those ideas? The paper aims to unpack the ideologies of race and language that underpin talk about race and racism in an effort to expose the hidden assumptions in the discourse that hinder more productive dialogue on the topic.
Keywords
Critical race theory,
folk theory of race and racism,
George Zimmerman,
ideology,
language ideology,
media discourse,
race,
race talk,
racism,
slurs,
Trayvon Martin
DOI
10.1017/S004740451500024X
Citation Information
Adam Hodges. "Ideologies of Language and Race in US Media Discourse about the Trayvon Martin Shooting"
Language in Society
Vol. 44 Iss. 3 (2015) p. 401 - 423 ISSN: 0047-4045
Available at: http://works.bepress.com/adamhodges/58/