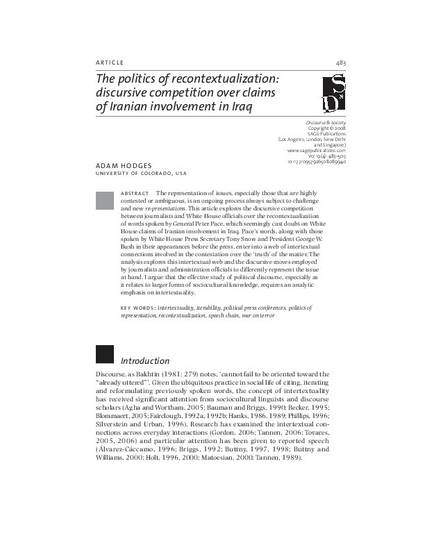 Article
The Politics of Recontextualization: Discursive Competition over Claims of Iranian Involvement in Iraq
Discourse & Society (2008)
Abstract
The representation of issues, especially those that are highly contested or ambiguous, is an ongoing process always subject to challenge and new re-presentations. This article explores the discursive competition between journalists and White House officials over the recontextualization of words spoken by General Peter Pace, which seemingly cast doubt on White House claims of Iranian involvement in Iraq. Pace's words, along with those spoken by White House Press Secretary Tony Snow and President George W. Bush in their appearances before the press, enter into a web of intertextual connections involved in the contestation over the `truth' of the matter. The analysis explores this intertextual web and the discursive moves employed by journalists and administration officials to differently represent the issue at hand. I argue that the effective study of political discourse, especially as it relates to larger forms of sociocultural knowledge, requires an analytic emphasis on intertextuality.
Keywords
intertextuality,
iterability,
political press conferences,
politics of representation,
recontextualization,
speech chain,
war on terror
DOI
10.1177/0957926508089940
Citation Information
Adam Hodges. "The Politics of Recontextualization: Discursive Competition over Claims of Iranian Involvement in Iraq"
Discourse & Society
Vol. 19 Iss. 4 (2008)
Available at: http://works.bepress.com/adamhodges/4/