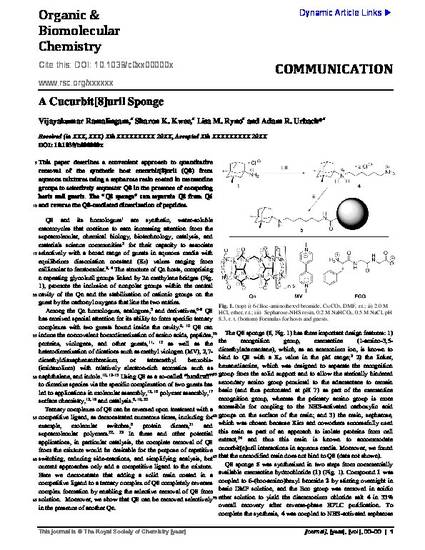 Article
A Cucurbit[8]uril Sponge
Organic and Biomolecular Chemistry
Publication Date
11-21-2012
Abstract
This paper describes a convenient approach to quantitative removal of the synthetic host cucurbit[8]uril (Q8) from aqueous mixtures using a sepharose resin coated in memantine groups to selectively sequester Q8 in the presence of competing hosts and guests. The "Q8 sponge" can separate Q8 from Q6 and reverse the Q8-mediated dimerization of peptides.
Document Object Identifier (DOI)
10.1039/C2OB26774H
Citation Information
Ramalingam, V., Kwee, S. K., Ryno, L. M., & Urbach, A. R. (2012). A cucurbit[8]uril sponge.
Organic and Biomolecular Chemistry
, 10, 8587-8589. doi: 10.1039/c2ob26774h