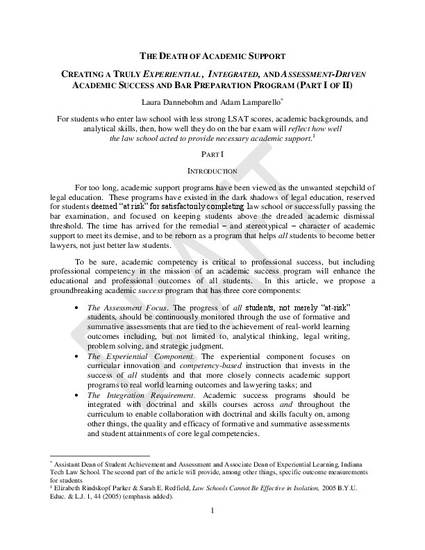 Unpublished Paper
The Death of Academic Support: Creating a Truly Integrated, Experiential, and Assessment Driven Academic Success and Bar Preparation Program
ExpressO (2015)
Abstract
For too long, academic support programs have been viewed as the unwanted stepchild of legal education. These programs have existed in the dark shadows of legal education, reserved for students deemed "at risk" for satisfactorily completing law school or successfully passing the bar examination, and focused on keeping students above the dreaded academic dismissal threshold. The time has arrived for the remedial – and stereotypical – character of academic support to meet its demise, and to be reborn as a program that helps all students to become better lawyers, not just better law students.
In this article, we propose a groundbreaking academic success program that was adopted at Indiana Tech Law School, and that has revolutionized the way legal education is delivered. Part II discusses the flaws underpinning many academic support programs today, and examines the consequences, including the perception that academic support is only for "bad students" and the restrictive focus on academic rather than professional competency, that has undermined its pedagogical value. Part III sets forth the innovative academic success program at Indiana Tech Law School. The program incorporates experiential, integrated, and assessment-driven components in a manner that transcends the boundaries between academic success and the broader curriculum, and bridges the divide between legal education and law practice. After all, law schools have an ethical obligation to ensure that graduates can competently and ethically practice law, and legal education would "serve the public interest by . . . encouraging more attention to services, outcomes, and value delivered to law students."


Keywords
academic support,
bar examination,
law school curriculum,
formative and summative assessments
Publication Date
August 18, 2015
Citation Information
Adam Lamparello and Laura Dannebohm. "The Death of Academic Support: Creating a Truly Integrated, Experiential, and Assessment Driven Academic Success and Bar Preparation Program"
ExpressO
(2015)
Available at: http://works.bepress.com/adam_lamparello/46/