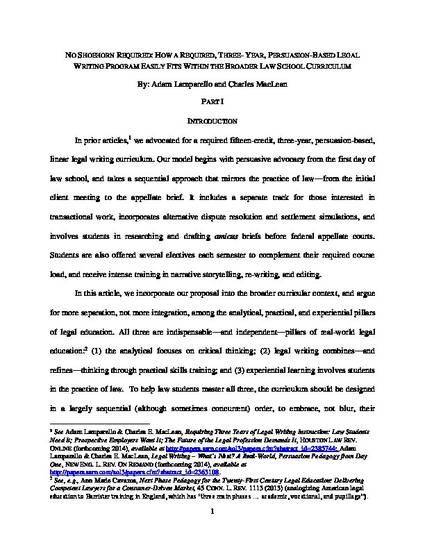 Unpublished Paper
NO SHOEHORN REQUIRED: HOW A REQUIRED, THREE- YEAR, PERSUASION-BASED LEGAL WRITING PROGRAM EASILY FITS WITHIN THE BROADER LAW SCHOOL CURRICULUM
ExpressO (2014)
Abstract
In this article, we incorporate our proposal into the broader curricular context, and argue for more separation, not more integration, among the analytical, practical, and experiential pillars of legal education. All three are indispensable—and independent—pillars of real-world legal education:[1] (1) the analytical focuses on critical thinking; (2) legal writing combines—and refines—thinking through practical skills training; and (3) experiential learning involves students in the practice of law. To help law students master all three, the curriculum should be designed in a largely sequential (although sometimes concurrent) order, to embrace, not blur, their substantive differences, and to approach inter-foundational collaboration with caution. Broadly speaking, analytical training should dominate the first year in legal writing, but should include an experiential component. The second year should combine analytical and practical skills training, and the third year should focus extensively on clinical work.

[1] See, e.g., Ann Marie Cavazos, Next Phase Pedagogy for the Twenty-First Century Legal Education: Delivering Competent Lawyers for a Consumer-Driven Market, 45 Conn. L. Rev. 1113 (2013) (analogizing American legal education to Barrister training in England, which has "three main phases … academic, vocational, and pupillage").
Keywords
legal research,
legal writing,
legal education,
experiential learning
Publication Date
March 3, 2014
Citation Information
Adam Lamparello. "NO SHOEHORN REQUIRED: HOW A REQUIRED, THREE- YEAR, PERSUASION-BASED LEGAL WRITING PROGRAM EASILY FITS WITHIN THE BROADER LAW SCHOOL CURRICULUM"
ExpressO
(2014)
Available at: http://works.bepress.com/adam_lamparello/13/