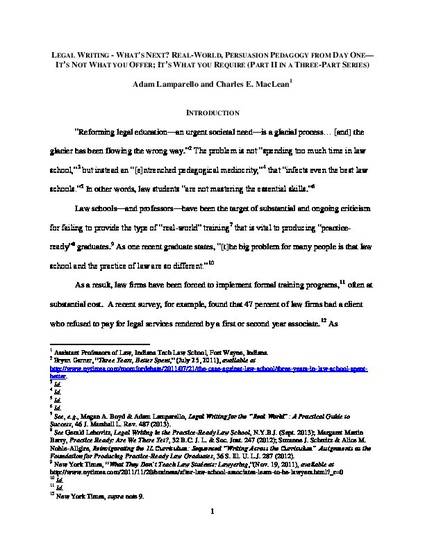 Unpublished Paper
LEGAL WRITING - WHAT'S NEXT? REAL-WORLD, PERSUASION PEDAGOGY FROM DAY ONE—IT'S NOT WHAT YOU OFFER; IT'S WHAT YOU REQUIRE – PART II (IN A THREE-PART SERIES)
ExpressO (2014)
Abstract
This essay (part two of a three-part series) strives to begin a collaborative discussion with legal writing, clinical, and doctrinal faculty about what "change" in legal education should mean. In Part I, the authors rolled out a blueprint for transformative change in legal writing pedagogy, which includes: (1) more required skills courses that mirror the actual practice of law; (2) a three-year program that includes up to four writing credits in every semester; and (3) increased collaboration between legal writing professors and doctrinal faculty. In this essay, we get more specific, and propose a three-year legal writing curriculum that builds upon the previous generations' impressive scholarly and curricular accomplishments. The new legal writing pedagogy represents an evolution, not a revolution, and an opportunity for legal writing professors to be on the vanguard of institutional and progressive reform.
[1] Adam Lamparello & Charles E. MacLean, Legal Writing – What's Next? Real-World Persuasion Pedagogy from Day One, 48 N. Engl. L. Rev. On Remand ___ (forthcoming 2014).
Keywords
legal research,
legal writing,
legal education,
advocacy and dispute resolution
Publication Date
January 26, 2014
Citation Information
Adam Lamparello and Charles MacLean. "LEGAL WRITING - WHAT'S NEXT? REAL-WORLD, PERSUASION PEDAGOGY FROM DAY ONE—IT'S NOT WHAT YOU OFFER; IT'S WHAT YOU REQUIRE – PART II (IN A THREE-PART SERIES)"
ExpressO
(2014)
Available at: http://works.bepress.com/adam_lamparello/11/