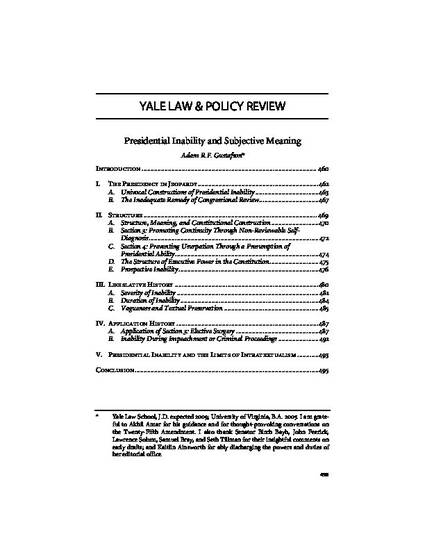 Article
Presidential Inability and Subjective Meaning
Yale Law and Policy Review (2009)
Abstract
The Twenty-Fifth Amendment allows the President to be separated from his constitutional powers and duties when either he himself (under Section 3) or the Vice President and a majority of his Cabinet (under Section 4) declare that the President is "unable to discharge the powers and duties of his office." If the same meaning were attributed to both inability provisions, Section 4 would create a power of removal more expansive than the impeachment clause, and it would undermine the continuity of the Executive branch that the Amendment was designed to safeguard. This Note contends, to the contrary, that although the "unable to discharge" phrase appears identically in both sections, it embraces a more inclusive set of impairments when the President declares his own inability than when the diagnosis is made by the Vice President and Cabinet. This is because the legal meaning of Section 3 is conditioned upon its construction by the President, as the sole constitutional actor involved in this unreviewable decision. The Amendment's structure, legislative history, and application history all confirm that presidential inability should be understood differently depending on which constitutional actor makes the evaluation.
Winner of the Edward D. Robbins Memorial Prize
Keywords
Twenty-Fifth Amendment,
25th Amendment,
unable to discharge the powers and duties of his office,
presidential disability,
presidential inability,
presidential impairment,
Vice President,
Cabinet,
executive power,
unitary executive
Publication Date
Spring 2009
Citation Information
Adam R.F. Gustafson,
Presidential Inability and Subjective Meaning
, 27
Yale L. & Pol'y Rev.
459 (2009).