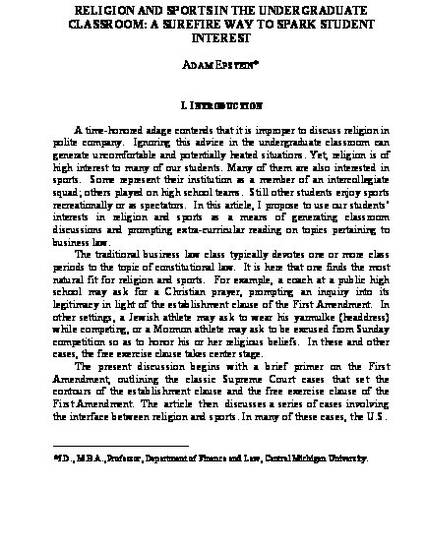 Article
Religion and Sports in the Undergraduate Classroom: A Surefire Way to Spark Student Interest
Southern Law Journal (2011)
Abstract
The purpose of this pedagogical piece is to present an opportunity to discuss religion in the context of sports as a means of generating classroom discussion and prompting extra-curricular reading on topics pertaining to business law primarily at the undergraduate level. A discussion of religion and sports provides one avenue to pursue exploration of the free exercise and establishment clauses. Examples are provided in the intercollegiate, interscholastic and professional sport contexts. The article also provides a brief primer on the First Amendment generally, outlining some of the classic Supreme Court cases. The article then discusses a series of cases involving the interface between religion and sports. As the piece demonstrates, many questions remain unanswered, and changing views and perceptions related to religious tolerance continue to present challenges for communities and the courts.
Keywords
Religion,
Sports Law,
First Amendment,
Free Exercise Clause,
Establishment Clause,
Interscholastic Sport,
Intercollegiate Sport
Citation Information
Adam Epstein. "Religion and Sports in the Undergraduate Classroom: A Surefire Way to Spark Student Interest"
Southern Law Journal
Vol. 21 Iss. 1 (2011)
Available at: http://works.bepress.com/adam_epstein/7/