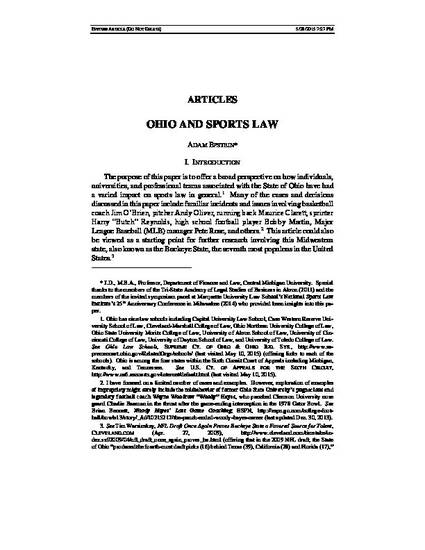 Article
Ohio and Sports Law
Marquette Sports Law Review (2015)
Abstract
The purpose of this paper is to offer a broad perspective on how individuals, universities and professional teams associated with the state of Ohio have had a varied impact on sports law in general. Many of the cases and decisions discussed in this paper include familiar incidents and issues involving basketball coach Jim O'Brien, pitcher Andy Oliver, running back Maurice Clarett, sprinter Harry "Butch" Reynolds, high school football player Bobby Martin, Major League Baseball (MLB) manager Pete Rose and others. This article could also be viewed as a starting point for further research involving this Midwestern state also known as the Buckeye State, the seventh most populous in the United States. The article explores sports law cases from Ohio involving issues related to contract law, constitutional law, antitrust law, disability issues, the criminal law, and many other areas as well. Ohio's relationship to sports law has been especially marked by legal and ethical issues emanating from The Ohio State University (OSU), including the chaos surrounding the 2011 resignation of former OSU head football coach Jim Tressel after numerous allegations of violations of the National Collegiate Athletic Association (NCAA) rules by him and at least six of his players. Rich with history, this paper demonstrates that the state of Ohio continues to have a significant impact on sports and the law and in some cases sets the tone of the discussion at the national level emanating from Lake Erie to the Ohio River and all the major cities in between including Toledo, Cleveland, Columbus and Cincinnati.
Keywords
Ohio,
NCAA,
Antitrust,
Sports Law,
Jim O'Brien,
Jim Tressel,
Andy Oliver,
Maurice Clarett,
Harry "Butch" Reynolds,
Bobby Martin,
Pete Rose,
Buckeye State,
"jock tax,
" Toledo Mud Hens,
Dayton Dragons,
Cleveland Indians,
Chief Wahoo,
Cincinnati Bengals,
Brutus,
Rufus
Citation Information
Adam Epstein. "Ohio and Sports Law"
Marquette Sports Law Review
Vol. 25 Iss. 2 (2015)
Available at: http://works.bepress.com/adam_epstein/43/