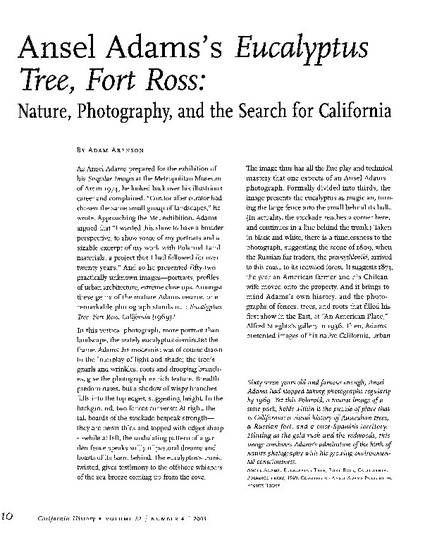 Article
Ansel Adams's Eucalyptus Tree, Fort Ross: Nature, Photography, and the Search for California
California History (2005)
Abstract
This article considers the image of California evoked in the unusual Ansel Adams photograph Eucalyptus Tree, Fort Ross, California (1969), a Polaroid Land image of the garrison fence and an aged eucalyptus tree. Considering the participation of Russian occupation, Australian cross-pollination, Carleton Watkins's early photographs of redwoods, automotive and tourist images in the creation of this distinctive California place, the article argues that to understand Ansel Adams's work, we must not remember his Yosemite images and forget him at Fort Ross. Eucalyptus Tree, Fort Ross, California is still beautiful even as it jars the human presence back into the frame. California—vast, sprawling, variegated—can only be contained in an accretion of images, emotions, and people, as their hopes, their dreams, and their fears form this puzzle of a place.
Keywords
Ansel Adams,
Fort Ross,
eucalyptus,
California,
memory,
place,
nature
Citation Information
Adam Arenson. "Ansel Adams's Eucalyptus Tree, Fort Ross: Nature, Photography, and the Search for California"
California History
Vol. 82 Iss. 4 (2005)
Available at: http://works.bepress.com/adam_arenson/8/